Ukrainian deputy minister flees Twitter after poll on special op to 'save' murdered journalist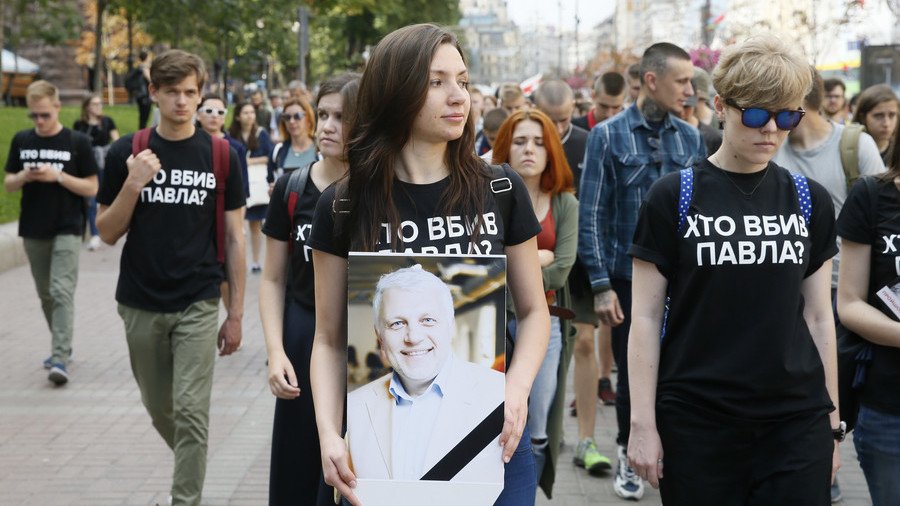 Amid criticism Kiev is struggling to justify staging the killing of an anti-Kremlin journalist. A senior official shot himself in the foot with a Twitter poll that dragged in a real murder of a high-profile journalist in Ukraine.
Dmitro Zolotukhin is a deputy minister at Ukraine's Ministry for Information Policy, a media regulator dubbed by some as the 'ministry of truth' for its often ham-fisted attempts to push through government-friendly narratives into the press. The ministry now has a big problem after the Ukrainian government staged the assassination of a Russian journalist and long-time critic of the Kremlin, claiming it was necessary to thwart an actual crime ordered by Moscow.
Many media professionals and journalism rights advocates expressed outrage at Kiev playing with the issue of press protection. Some may also be offended after falling for the "Kremlin kills critics" story hook, line and sinker. Zolotukhin is among the Ukrainian officials trying to do damage control in the English-speaking part of Twitter, or at least he was - until now.
On Thursday, Zolotukhin posted a poll, which apparently suggested to critics of the stunt whether they would support a similar "special operation" to save the life of Pavel Sheremet. The Belarus-born journalist moved from Russia to Ukraine after the 2014 coup in Kiev and was killed in 2016 by a bomb placed under the car he drove.
Ukraine's deputy minister of information policy has deleted that disrespectful tweet. But I managed to save a screenshot. pic.twitter.com/ynerbgn4WL

— Christopher Miller (@ChristopherJM) May 31, 2018
Officials in Kiev quickly accused Russia of killing Sheremet, but the Ukrainian law enforcement has failed actually solve the case over the two years that passed since. More importantly, a journalistic investigation into the death revealed that an agent of the SBU, the same security service that played the "fake death" trick on the world, was secretly surveying Sheremet right before the bombing. There are strong suspicions in Ukraine that the SBU could have prevented the murder and probably had prior knowledge of the planned attack and that the investigation was deliberately stalled because of it.
це неетичний, жахливо образливий і болючий твіт для усіх друзів і близьких Павла!!!! Ви хоч це розумієте, що не можна спекулювати його смертю??? Просто не можна! Чому не має якісного розслідування? Хто вбив Павла? Дайте відповідь на це запитання, а не що було б якби....

— Kristina Berdynskykh (@berdynskykh_k) May 31, 2018
Zolotukhin's suggestion triggered a flurry of angry responses. About 15 minutes later the poll was taken down and in less than an hour the entire account was no longer available.
Заместитель министра информационной политики Украины Дмитрий Золотухин решил провести опрос, а потом ещё ответить Nina Ognianova. Но потом удалил свои твиты. Передайте ему кто-то что он не только подлец, но ещё и трусливый подлец.

— Sevgil Musaieva (@SMusaieva) May 31, 2018
The SBU is yet to present any tangible evidence that the plot they allegedly thwarted this week is actually linked to Russia. The service has a long record of claiming that they prevented this or that high-profile plot and proved how highly competent they are.
For instance in 2016, they claimed foiling dozens of terrorist attacks in Europe by catching a man trying to buy explosives and firearms in Ukraine. In January 2017, they claimed they have prevented an assassination of an MP. Earlier this year they said they foiled a ring of conspirators, who wanted to blow up the parliament and seize power led by Nadezhda Savchenko – a hero of Ukraine and an MP.
READ MORE: Euro-2016 the target? French national 'with explosives & AK-47s' detained on Ukrainian border
Such cases tend to have some common features. They start with arrests of Ukrainians, take years to make it to the court, and, if they reach that stage, the charges are usually far from what is initially claimed.
If you like this story, share it with a friend!
You can share this story on social media: