'Climate of terrorist threats': France bans big screen zones for World Cup public viewing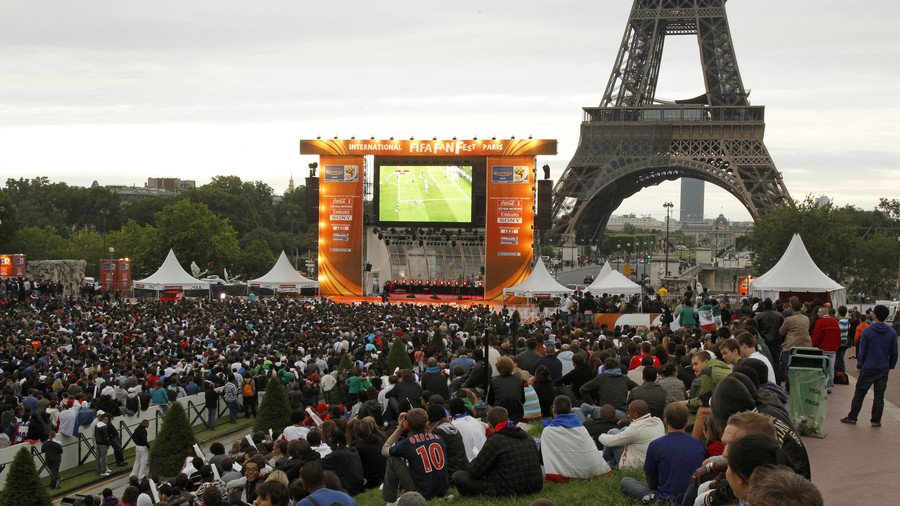 As people across the globe prepare to watch the World Cup next month, French fans will have to do so in private. The country has banned big screens in public spaces, citing terrorist concerns.
"I remind all publicly-elected officials of the fact that 'big screen' zones are completely forbidden in public spaces," the interior ministry said in a statement on Tuesday, as quoted by AFP.
It went on to state that the same security measures that were used at Euro 2016, which was held in France, will be deployed during the World Cup due to the "current climate of terrorist threats."
Although big screens won't be allowed to be set up in the streets, the statement did say that city officials can organize their own zones with big screens. However, "these transmissions, organized under their responsibility, can only be held in closed or strictly controlled areas."
Those areas include stadiums, sports venues, and conference centers, all of which would require a "heavy security presence" at the "cost of the organizer." The FIFA World Cup will take place in Russia from mid-June to mid-July.
France has been on high alert for more than three years, following the January 2015 terrorist attacks which killed 17 people in Paris. In November of the same year, attacks in and around the French capital killed 130 people.
But the country's efforts to protect citizens from further attacks have been criticized by rights groups who say they infringe on the freedom of the citizens. One of the most controversial moves came in October, when France approved a counter-terrorism law to replace a two-year state of emergency. That law gave police broader powers for data collection and surveillance, prompting UN human rights experts to express concern that it would restrict civil liberties.
Meanwhile, officials say the terrorist threat in France will not end anytime soon, with the Paris public prosecutor stating in January that the threat remains "very high."
Think your friends would be interested? Share this story!
You can share this story on social media: