'Italy won't be bullied': Italian president's govt rejection slammed by both left and right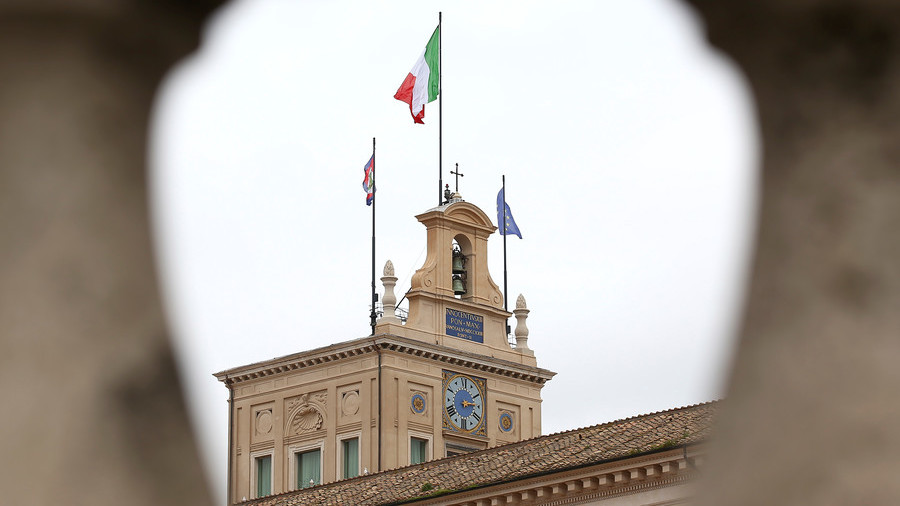 The Italian president's rejection of the Euroskeptic coalition's choice of economy minister, which led to the appointment of a former IMF official as interim PM, has ruffled the feathers of both conservatives and leftists.
Former UKIP leader Nigel Farage, who was at the forefront of the Brexit campaign, had some words for his old foe Brussels while speaking in front of the European Parliament on Tuesday, particularly in regards to Italy's political crisis.
"They [Italians] question what the euro has done to their economy, they feel they are a victim of the European Union's immigration policies and as a result of all this they voted in a new government, only to find that bullying, hectoring from the European Commission has been listened to by the Italian president and in the last 48 hours their democracy has been traduced," he said.
He was referring to Italian President Sergio Mattarella's rejection of a Euroskeptic finance minister put forth by the coalition formed by the Five Star Movement and Lega parties on Monday. This rejection, and the coalition's refusal to nominate another candidate, led to a crumbling of its government bid and prompted Mattarella to appoint former International Monetary Fund (IMF) official Carlo Cottarelli as interim prime minister.
According to Farage, however, the Italians won't be made to lie down by the EU. "In the past, you managed to bully the Danes, you bullied the Irish, you bullied the Greeks into submission. I suspect with Italy today you've now bitten off more than you can chew. Bring on more elections and bigger Euroskeptic victories," he told the parliament.
However, it's not just Farage and those who align politically with the former UKIP leader who are angered by the way things have unfolded in Italy. Many leftists are also unhappy, including economics professor Yanis Varoufakis, who served as the Greek finance minister from January to July 2015.
"The people of Italy voted against technocrats implementing austerity for the many and socialism for the very, very few. Now they have an IMF apparatchik as PM with a plan to implement more of the same. Could Italy's president have given the xenophobic populists a greater gift?" he tweeted.
He went on to state that preventing the coalition from forming a government and "ushering in an IMF apparatchik" only serves to "guarantee their election with a larger majority soon." The belief that the president's move will only serve to further fuel Euroskeptic sentiment in the country is one shared by many analysts.
University of Milan politics professor Marco Bassani agrees that new elections will have the same outcome as the previous one, but stated that the situation could become a vicious cycle. "Let's say Italians go to the elections in two or three months... clearly the Five Star movement and the Lega Nord will win again. So they will go there with the same list of ministers. So what happens? Will the president say no again? It could go on forever, this is like a stalemate," he told RT.
When asked whether he believes Mattarella's decision was guided by Brussels, he answered in the affirmative. "Was it imposed and was it something that came from Brussels? The answer is yes. I don't know whether it was in a direct way or indirect way."
Both parties of the coalition have spoken out against Mattarella's decision, with Five Star Movement leader Luigi Di Maio calling for the president's impeachment. Lega leader Matteo Salvini, meanwhile, summed his views up by saying: "In a democracy, if we are still in a democracy, there's only one thing to do, let the Italians have their say." He added that Italy is not a "colony" and that "we won't have Germany tell us what to do."
Think your friends would be interested? Share this story!