China's waste import ban fallout: EU wants to get rid of most single-use plastic products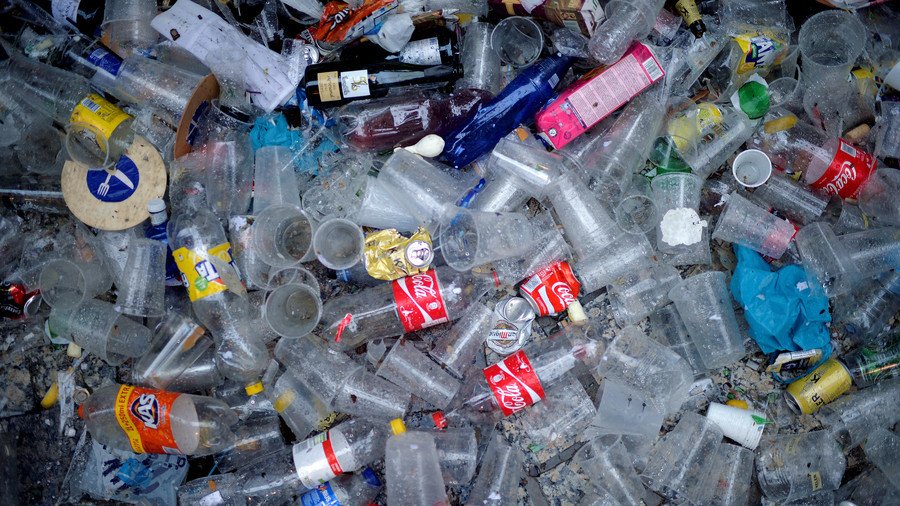 The European Commission wants to ban single-use plastic products like disposable cutlery, straws and cotton buds to fight the plastic epidemic littering our oceans – months after China banned millions of tons of imported EU waste.
The EC unveiled the market ban proposal on Monday, which included 10 items that make up 70 percent of all the marine litter in the EU. As well as the aforementioned items, the list includes plastic plates, drink stirrers, sticks for balloons and single-use plastic drinks containers.
The crackdown comes less than six months after the European Union announced its first-ever Europe-wide strategy on plastic recycling following China's ban on waste imports from Western countries. At the end of 2017, Beijing banned the import of 24 types of waste from the US and EU and accused the nations of flouting waste standard rules.
The new proposal says the ban on single-use plastic products will be in place wherever there are "readily available and affordable" alternatives. Where there aren't "straight-forward alternatives," the focus will be on limiting their use through a national reduction in consumption.
In order for the products to be sold in the EU, they will have to be made exclusively from sustainable materials. Single-use drink containers will only be allowed on the market if their caps and lids remain attached.
Member states of the EU will also have to start actively reducing their use of plastic food containers and drinks cups. "They can do so by setting national reduction targets, making alternative products available at the point of sale, or ensuring that single-use plastic products cannot be provided free of charge," suggests the EC proposal.
Producers of plastic food containers, packets, wrappers, drink containers, tobacco products, wet wipes, balloons and lightweight plastic bags will also have to get involved by helping to cover the costs of waste management and clean up. Companies will also be offered incentives to develop less polluting alternatives.
READ MORE: Floating trash bin gets to work on UK's south coast
In addition, member states will be obligated to collect 90 percent of single-use plastic drinks bottles by 2025 and raise consumers awareness about the negative impact of littering and how to properly dispose of waste.
The EC's proposal will now go to the European Parliament and Council for adoption. It will need the approval of all EU member states and the European Parliament in order to pass - a process which could take three to four years before the rules come into force.
Once fully implemented in 2030, the EC estimates that the new measures could cost businesses more than €3 billion ($3.5 billion) per year. But they could also save consumers about €6.5 billion per year, create 30,000 jobs and avoid €22 billion in environmental damage and cleanup costs.
Like this story? Share it with a friend!
You can share this story on social media: