Brazil's Temer agrees to lower fuel prices after week of crippling trucker protests
Published time: 28 May, 2018 06:43
Edited time: 29 May, 2018 06:34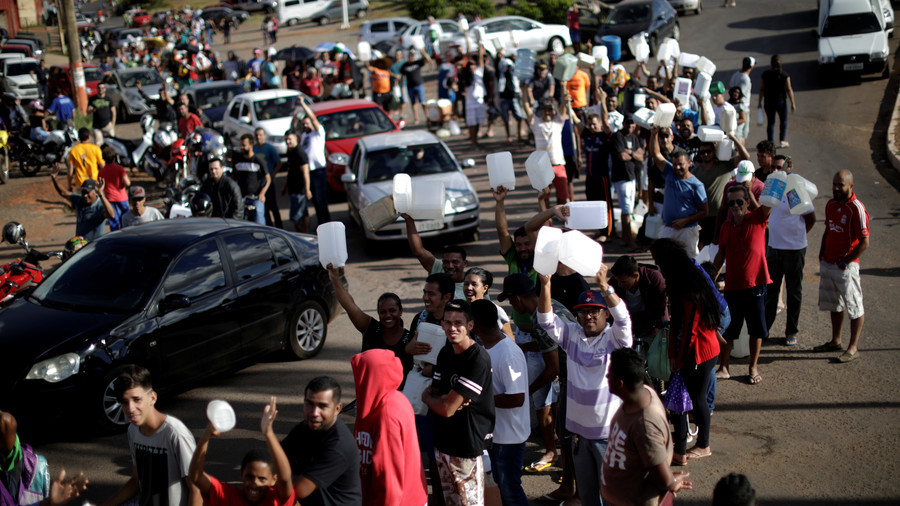 Brazilian President Michel Temer has signed a series of decrees designed to end a nationwide strike by truckers, who are protesting against rising diesel prices. It follows threats by Temer to bring in the army to clear the roads.
Truckers have been blocking roads across Brazil, impeding deliveries of vital supplies to cities, since May 21. The protest was triggered by a spike in the price of diesel, which has increased sharply in recent months amid soaring oil prices. It has affected hospitals, as well as schools and universities, many of which said they would shut down on Monday.

The shortage of fuel prompted the authorities to order police and military to accompany convoys carrying fuel for public transport, ambulances and police cars.
Late on Sunday, Temer said that his government had addressed all of the demands put forward by the truckers. The government's concessions include a 12-percent decrease in diesel prices, amounting to 46 Brazilian cents ($0.13) per liter, which will remain in effect for the next 60 days. After this two-month discount expires, the government will gradually readjust the price, Temer said, "so each trucker will be able to better plan his costs and freight value."
Under the new set of rules, truckers will no longer be subject to fees by toll operators when their rear axles are not in use – that is, when they are not carrying cargo.
Another decree provides freelance truck drivers with a guarantee that they will receive at least 30 percent of the freight, while the final decree unveiled on Sunday is set to establish a minimum fare for freight to be paid to the drivers.
The concessions announced by Temer represent a sharp turnaround from his belligerent rhetoric on Friday, when he said that he would not hesitate to send in the army to clear the roads if dialogue with the protesters did not bear fruit.
The previous agreement reached on Thursday did not help to mitigate the crisis, with the biggest drivers' union, the Brazilian Association of Truckers (Abcam), rejecting the deal. Temer blamed the agreement's failure on a "radical minority," accusing the drivers of taking the population hostage over their woes.
Brazil depends heavily on trucking to deliver products all over the country and for export due to its poorly developed rail network. Fuel prices in the country have almost doubled since the 2016 impeachment of former president Dilma Rousseff and her subsequent replacement by Michel Temer, who had been her vice president.