Brazil elites consider poor and dark-skinned people their enemy – ex-President Rousseff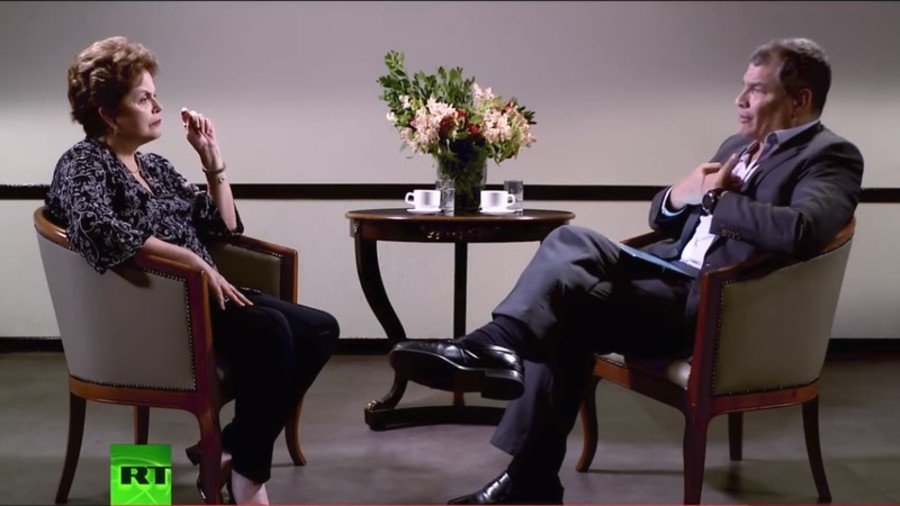 Elitism and how the very rich people look down on the poor are a major problem for Brazil, the country's former President Dilma Rousseff told Ex-Ecuador President Rafael Correa during an interview on RT.
A protégé and political successor to President Lula da Silva, Dilma Rousseff continued his policies, aimed at eradicating poverty in Brazil. Under successive governments of the left-leaning Workers' Party, the Latin American country saw a significant improvement in living conditions for millions of people. In 2014, Brazil for the first time was cross off the UN's World Hunger Map, after reducing the number of undernourished people by 80 percent in 10 years.
Discussing her government's policies with Correa, Rousseff agreed that elitism is a serious problem in Brazil, causing a lot of grief and suffering for common folk. Some members of the elite see all poor people as their enemy, she said.
"In Brazil, the poor and the dark-skinned were the enemy… They were tortured, they were arrested, they were turned into a lower class, stripped of all rights. We began to change this situation," she said. "There is still a lot to be done: we need to distribute the wealth in the country, implement tax reform [and] end the oligopoly of the media and banks that control different aspects of the country's life."
Rousseff's second presidential term, however, was cut short by an impeachment over breaches of budget rules. She was replaced by Michel Temer, who has since been accused of taking bribes, has dropped to a single-digit approval rating and used heavy-handed tactics to crack down on protests against his government. Rousseff says her downfall amounted to a parliamentary coup, backed by a smear campaign in the media owned by a handful of oligarchs.
"We won the elections four times in a row but, after the fourth time, they decided not to give us even a slightest opportunity to participate in the fifth election. Why should we give them a chance to win, they thought?" she explained.
Rousseff believes her government was targeted because powerful and wealthy people didn't want it to implement policies aimed at redistributing wealth, like taxing inheritance. Such measures were a natural next step after reducing the income gap.
"They now say Lula is a criminal, while all institutions in the country are facing a crisis," she said, describing the results of the Temer government's policies. "There are disagreements in the judicial system, the executive branch is in conflict with the legislative and judicial powers. The country's institutions are in chaos, but we are fighting against that, and you know why? Because we are the real democrats, not them."
Correa pointed out that the estimated 36 to 38 million people who were lifted from poverty and became part of the middle class under Rousseff, failed to support her in 2016. "Where were these 38 million people when everyone rose up against you in 2016, when the coup happened?" he asked.
"Because they think that what they are fighting for and what they get are totally different things, as unbelievable as that might sound," she replied. "We conducted a survey after – no, right before the impeachment. It was a comprehensive and thorough survey. We asked people about every social program, we asked what they got from it, how they got it and who they have to thank for it. To the latter, people replied that first and foremost they owe what they got to God, then themselves (which is very important), and then their families and their mothers. Government policy was the least popular answer.
"When people get something, they get used to it immediately and they start thinking it has always belonged to them," she said
You can watch the entire episode of the "Conversations with Correa" program in Spanish here.
If you like this story, share it with a friend!
You can share this story on social media: