President threatens to use army to clear Brazil truckers blocking roads in protest (PHOTOS, VIDEO)
Published time: 25 May, 2018 23:19
Edited time: 26 May, 2018 16:05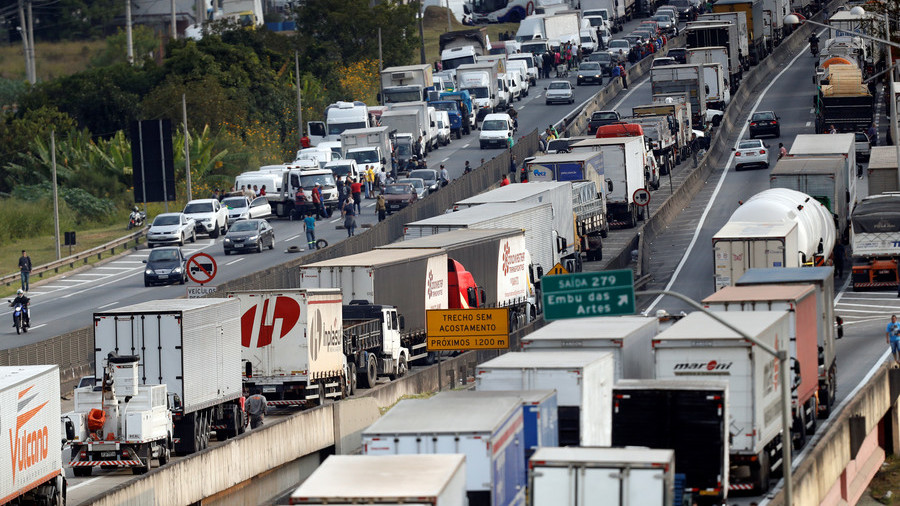 Some of the truckers protesting high fuel prices in Brazil have agreed to unblock the roads after the government threatened to send in the army against them. The five-day strike highlighted Brazil's economic woes.
On Friday, President Michel Temer threatened to send the army to clear the roads, as one of the trucker unions said it would continue the strike despite an agreement struck on Thursday to lower the price of diesel.
"Just as we had the courage to dialogue, we have the courage to exercise authority," Temer told the media on Friday. "I am putting all the federal forces to ensure free movement, and, of course, the country's supply. I think the country was expecting this."
Today is day 4 of a national truckers strike in Brazil. Protesting diesel prices, they're blocking key highways & choking off supply lines (almost no railways). Airports running out of fuel; buses reduced frequency; price gouging on food, gas, etc.🇧🇷 https://t.co/crBDaN8dY7pic.twitter.com/UqhmUTYzhJ

— Andrew Fishman (@AndrewDFish) May 24, 2018
Over 500 roadblocks remained across Brazil on Friday evening, Public Security Minister Raul Jungmann said at a news conference, according to Reuters. That was half the number registered on Thursday, however. Once the roads are completely cleared, normalizing fuel supplies will still take a week, Brazil's oil regulator ANP said.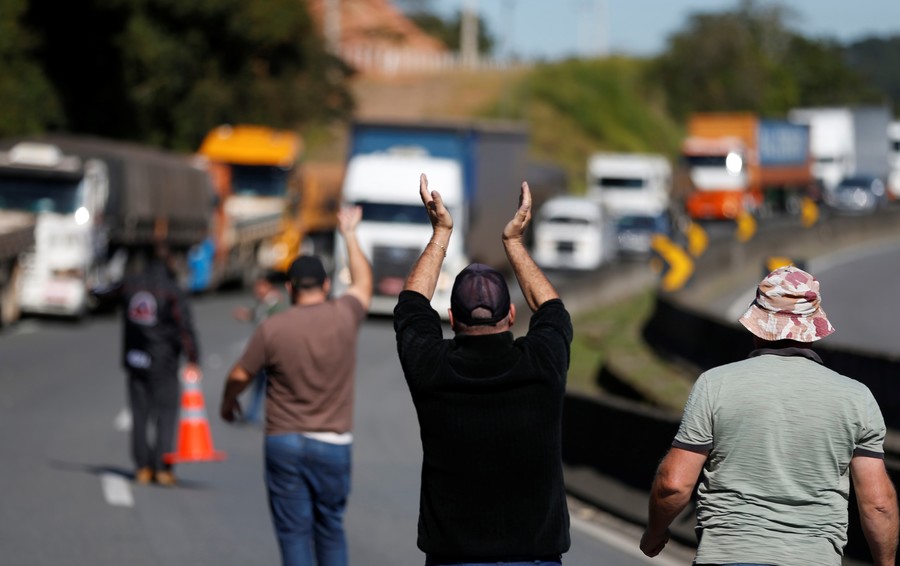 Tens of thousands of truckers had parked their rigs on the roads across Brazil on Monday, protesting the rising prices of diesel. On Thursday, union leaders said they would accept the government's offer to lower the fuel prices by 10 percent for a month and abandon the tax that had contributed to the long-term price hike. The government-run oil company Petrobras has a monopoly on fuel in Brazil.
The blockade has caused the cost of food and other products across the country to skyrocket, as supermarket shelves were stripped bare. Many schools canceled classes and hospitals reported running out of supplies. There were reports of shortages in Rio de Janeiro, Sao Paulo, Brasília, Recife, Porto Alegre, and Congonhas. Highways were also choked by the blockading drivers in Curitiba, the largest city in the Brazilian state of Paraná.
One of the trucker unions, Abcam, initially refused to accept the negotiated agreement and issued a statement on Friday saying the union "will not betray the truck drivers."
Abcam has reportedly changed its mind after Temer threatened to deploy the troops. However, the union urged its members to continue protesting by delaying deliveries until the fuel tax cut is guaranteed by law.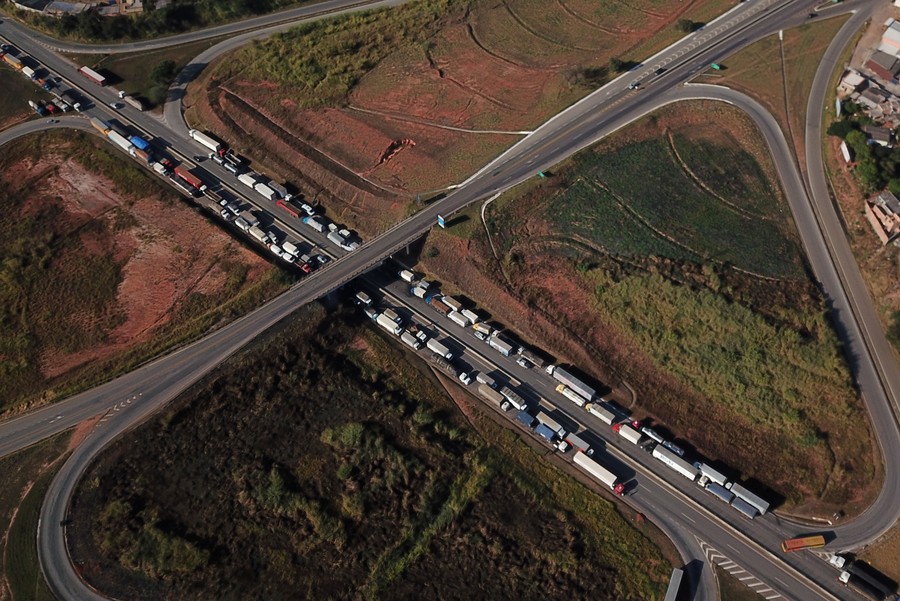 Fuel prices in Brazil have nearly doubled since President Dilma Rousseff was impeached by a faction led by Temer, her vice-president, in August 2016. Rousseff was targeted by an anti-corruption probe concerning corruption at Petrobras; she sat on the board of the company between 2003 and 2010. Though no evidence of her personal involvement in any corruption was found, Rousseff was removed by the legislators.
"In Brazil, the poor and the dark-skinned were the enemy… They were tortured, they were arrested, they were turned into a lower class, stripped of all rights. We began to change this situation," Rousseff told RT in the last month of her time in power. "There is still a lot to be done: we need to distribute the wealth in the country, implement tax reform [and] end the oligopoly of the media and banks that control different aspects of the country's life."
Rousseff was trying to continue the policies of her predecessor, Luiz Inacio Lula da Silva, who ruled from 2003 to 2011. Lula was accused of taking a bribe from a construction company and favoring them in contracts with Petrobras, and was sentenced to 12 years in prison. He turned himself in to begin serving his sentence. This will most likely disqualify him from running for president under Brazilian law.
Lula believes the US and Europe have never forgiven him from seeking to make Brazil independent of their economic and political domination.
"Before, Brazil was looking at the US and the EU with its back towards South American countries and Africa. I decided to change that,"Lula told RT in March, noting that Brazilian elites have never come to terms with his choice.
"It's becoming more and more clear each day that the US doesn't want Latin America to be strong and independent, much less does it want such a big country as Brazil to influence the decisions made by Latin America," he added.
Think your friends would be interested? Share this story!