There and back again: RT's journey to N. Korean nuclear test site demolition (VIDEO)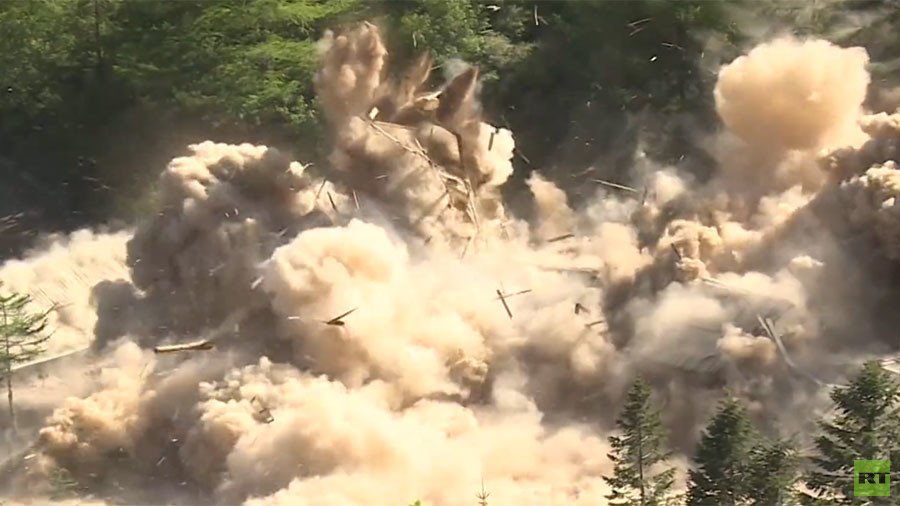 From a ride on a luxurious train with sealed windows to the massive blasts that leveled Pyongyang's nuclear test site, RT's correspondent recalls his journey to reclusive North Korea as part of a selected group of foreign media.
The journalists were taken to the Punggye-ri site in the north-east of the country on a posh train, which RT's correspondent Igor Zhdanov described as his "very own Oriental Express." To match the status of the event, they were served a 10-course banquet in the restaurant cart by waiters in white jackets.
However, there wasn't much else to do aboard the train, as all the windows were sealed for most of the trip to prevent the foreign guests from peaking outside.
The test site turned out to be in a picturesque green mountainous area. North Korean officials assured them that there were no radiation leaks, but many journalists still preferred to wear respirator masks, and "some crews have even taken dosimeters to this trip, which were confiscated at the customs," Zhdanov said.
Reporters were allowed to film the tunnels at Punggye-ri site as they were being rigged with explosives, and numerous visible wires extending from the walls were captured on RT's footage.
A series of powerful blasts sent tons of earth and rock into the air, destroying not only the tunnels but also the ground-based facilities.
Pyongyang carried out the demolition as an act of goodwill in the run-up to the much-anticipated summit between North Korean leader Kim Jong-un and US President Donald Trump, which was scheduled for June 12 in Singapore.
The move wasn't met with the desired appreciation in Washington though, as Trump sensationally announced the cancellation of the talks just several hours later.
READ MORE: RT's first-hand account of N.Korean nuke test site demolition
However, the US president hinted on Friday that the summit may eventually take place, citing "very productive talks" with Pyongyang and its commitment to finding a diplomatic solution to the nuclear crisis.
If you like this story, share it with a friend!
You can share this story on social media: