RT's first-hand account of N.Korean nuke test site demolition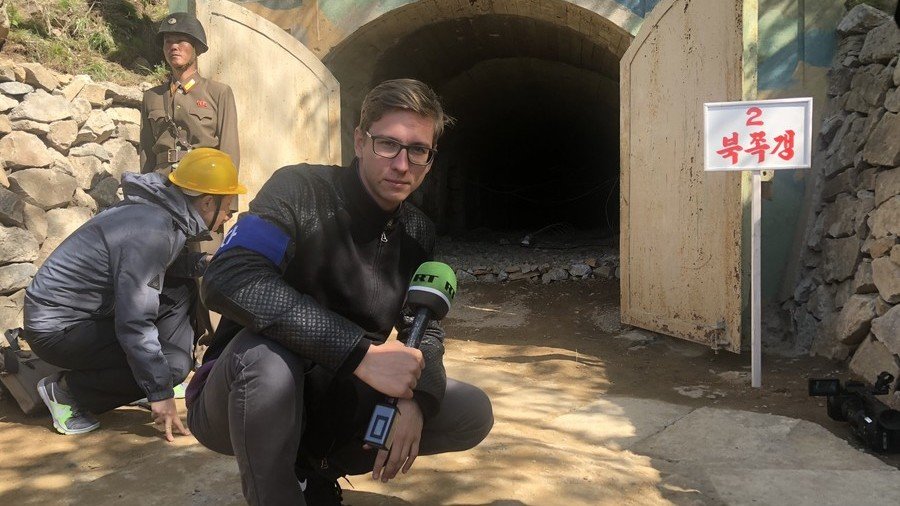 With a series of loud blasts, North Korea's only nuclear test site – underground tunnels and surface infrastructure – went up in a cloud of dust. RT was at the scene to witness the historic demolition.
Invited along with reporters from a handful of other media outlets, RT's Igor Zhdanov saw the destruction from a few dozen meters away. In an unprecedented act of transparency, the reclusive nation allowed him to inspect locations across the Punggye-ri test site before and after it was reduced to rubble by explosives.
Along with the infrastructure at the site, which used to house workers and soldiers, the North Koreans collapsed four tunnels, one of which – Northern Tunnel No. 2 – recently endured five underground nuclear tests. According to Zhdanov, it looks the part, being the most battered out of the four. No journalists were allowed to enter since the tunnels were already rigged with explosives by the time the media arrived.
But even more significant is the demolition of the Western Tunnel – a bigger, newer underground system that has seen no nuclear tests at all. North Koreans on site told Zhdanov that its closure is meant as a demonstration of Pyongyang's willingness to take the first steps in reconciling with Seoul and the rest of the world alike. Now, having rendered the nuke test site useless, the North expects the international community to meet it halfway.
Another before and after - an observation post for the northern (the most used) tunnel. A number of these destroyed - all empty, just walls and a ceiling. We were told they got rid of all the equipment beforehand - but we couldn't veryfy the claim pic.twitter.com/dkUb4dkVHT

— Igor Zhdanov (@IgorZhdanovRT) May 25, 2018
That prospect is now weighing in the balance though, following US President Donald Trump's abrupt cancellation of what was lining up to be an unprecedented summit with Kim Jong-un. Trump cited Kim's "open hostility" for lashing out at Vice President Mike Pence's suggestion of a "Libyan model" for North Korea. Libya surrendered its nuclear research materials to the US in 2003, and in 2011 its government was overthrown and its leader, Muammar Gaddafi, was killed in a US-backed revolution.
Yet, North Korea says it's still willing to talk to the US for the sake of "peace and stability of the Korean Peninsula and mankind."
You can share this story on social media: