Crisis looming over global economy without free trade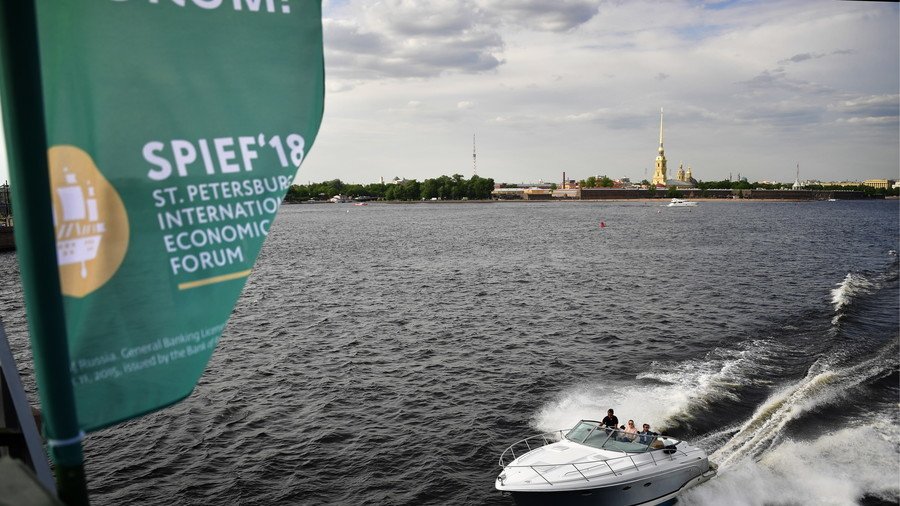 Multilateral free trade is a key to global economic stability, global leaders at the St. Petersburg International Economic Forum (SPIEF) have agreed.
Russian President Vladimir Putin warned about the deepest crisis the global economy has ever seen, if protectionism prevails. "The system of multilateral cooperation, which took years to build, is no longer allowed to evolve. It is being broken in a very crude way. Breaking the rules is becoming the new rule," he said.
The methods for breaking the rules are trade tariffs, technical standards and subsidies, as well as unilateral sanctions, according to Putin. "The ability to impose sanctions arbitrarily and with no control fosters a temptation to use such restrictive tools again and again, right and left, in every case, regardless of political loyalty, talks about solidarity, past agreements and long cooperation," the Russian president said.
International Monetary Fund (IMF) chief Christine Lagarde said trade barriers can slow down global growth, which is expected to reach 3.9 percent this year. "There are darkening clouds from the risk of a retreat from global trade and multilateral cooperation," she said. Lagarde warned there are no winners in a trade war, and "protectionism hurts the poor especially hard."
Longtime US ally France is seeking to make Europe's economy more independent, according to President Emmanuel Macron. "We must work to boost cross-investments and to achieve financial independence of Europe. It is necessary, if we want to reach our strategic goals, to achieve individual and autonomous financing of these projects and strategies. It is necessary to separate some spheres from geopolitical ones, from politicization," Macron said at the Forum.
"We seek European sovereignty, and I think that, in order to achieve it, we need to start with self-sufficiency and sovereignty in the area of financing," Macron added.The French president also said that he supports measures to compensate the European companies that may suffer from US sanctions on Iran.
The world's second-largest economy, China, is also seeking to avoid trade wars. "As far as the trade war between China and the United States is concerned, consultations between the two countries are underway … We should avoid a trade war because nobody will win," Vice President Wang Qishan said Friday.
Japanese Prime Minister Shinzo Abe said trade disputes should be resolved through the World Trade Organization. "I think it is necessary to pay attention to trade in general, in a comprehensive manner, and to act within the framework of the WTO regulations. We are talking about this inside the country, and we also call on the American partners to do this," Abe said. The PM pointed out that Japan is against the raising of tariffs on steel imports to the US, adding that this could affect US consumers.
For more stories on economy & finance visit RT's business section
You can share this story on social media: