'You can't buy France!': Thousands rally against Macron's planned mass lay-offs (PHOTO, VIDEO)
Thousands took to the streets across France on Saturday to protest against President Emmanuel Macron's public-sector reforms. Protesters decried Macron's plans for massive lay-offs of workers and tax breaks for the rich.
Protesters were carrying posters bearing slogans such as "Macron, you can't buy France!" "Stop Macron!" or "Make our planet great again: Austerity, bombing of Syria, eviction of farmers, destroying the public service, pesticides for everyone." Many accused the centrist president of serving the wealthy elites, while ignoring the plight of ordinary people.
The protests were spearheaded by leftist parties and the country's leading trade unions, including the influential General Confederation of Labor. The rallies are taking place in 160 locations across France, from the nation's capital of Paris to the southern port city of Marseille. There, ex-presidential candidate Jean-Luc Melenchon addressed the crowd, denouncing Macron's reforms.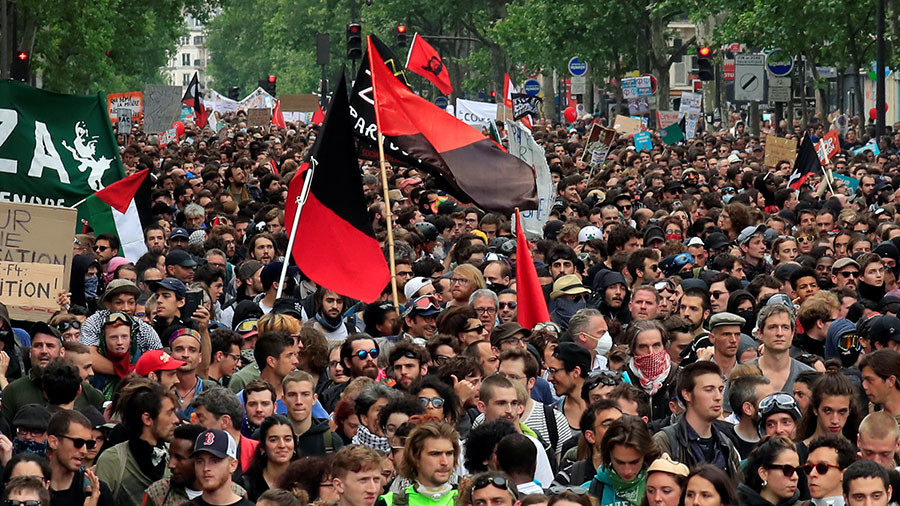 "We do not believe you because you are lying," said Melenchon, as quoted by Reuters. "The country is rich. The country must share."
READ MORE: Bloodied protester on Paris street: Anti-Macron protest turns violent (VIDEOS)
The rallies are happening after weeks of strikes staged by rail workers and other public-sector employees, who are outraged at Macron's promise to cut the 120,000 public jobs in the course of five years. The strikes caused major traffic disruption and forced the government on Friday to pledge to absorb €35 billion ($40.8 billion) of the €47 billion ($54.8 billion) debt owed by the national railway company.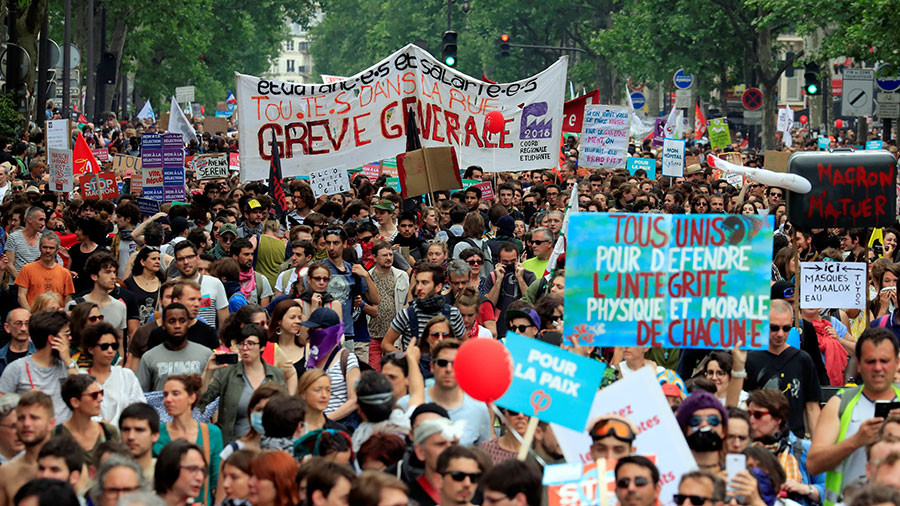 Macron hopes that by cutting public spending, the government can lower the budget deficit and modernize public administration. Announcing the upcoming changes, the president argued back in February that the public sector could no longer remain as "some kind of protected fortress."
The protests have so far remained peaceful, although a number of arrests took place before the event on Saturday, when 30 people were detained in Paris, according to the police. Among them were two garbage collectors who stole a truck and planned to dump trash in front of the ruling party's HQ.
READ MORE: Macron's St. Petersburg mission: Keep Russia in the European family
Like this story? Share it with a friend!