Bloodied protester on Paris street: Anti-Macron protest turns violent (VIDEOS)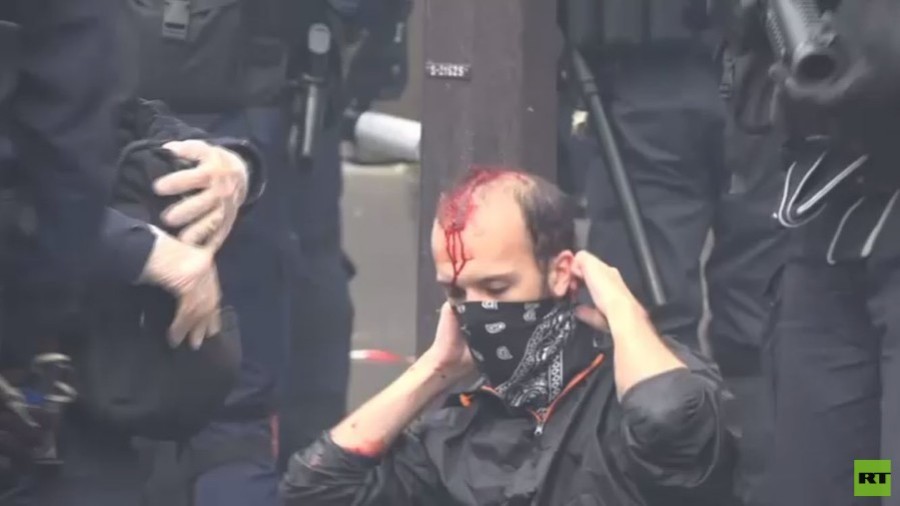 An RT correspondent team got caught up in intense clashes between police and protesters against President Macron's social reforms. Footage they filmed shows at least one masked protester covered in blood following the altercation.
The scuffles between the protesters and law enforcement erupted during trade union protests in Paris on Tuesday. The altercations were prompted by a group of masked protesters, wearing black clothes – the so-called 'Black Bloc' protesters, often associated with radical left movements – who started breaking windows and pelting police with projectiles.
RT's footage from the scene shows the chaotic episode. Law enforcement quickly tackled the misbehaving protesters, deploying tear gas and water cannons. Police then got up-close and personal with the protesters, unleashing powerful baton blows on the unlucky ones who did not escape the police wrath in time.
The footage shows people fleeing from law enforcement through a thick cloud of smoke, while the police beat people with batons and detained masked protesters. Several people can be seen being carried away by the police.
One of the protesters apparently sustained a head injury and got caught on tape sitting on the pavement with his head bloodied following the scuffle, while a police officer seemingly moved to provide medical help to the injured.
READ MORE: Police use tear gas, protesters throw stones as anti-Macron rally turns violent in Paris (VIDEOS)
The violent episode occurred during the trade union demonstration in Paris on Tuesday, which protested the controversial social reforms and austerity measures by President Emmanuel Macron. The event was largely peaceful, with over 16,000 demonstrators, civil servants, trade union members and their sympathizers attending. All in all, around 140 demonstrations were held on Tuesday across France.
Like this story? Share it with a friend!