Israeli maternity hospital under fire for ad depicting fetus as saluting soldier
Published time: 24 May, 2018 14:23
Edited time: 25 May, 2018 07:36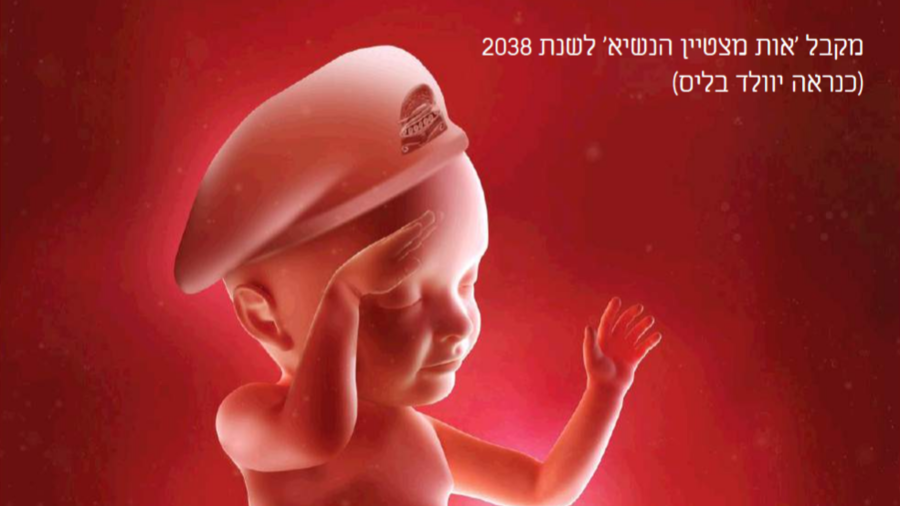 An Israeli maternity ward has placed an advertisement in a newspaper which depicts a fetus in utero wearing a beret while performing a military salute, sparking furious reaction online.
The advertisement for Lis Maternity ward, part of the Tel Aviv Sourasky Medical Center, features a caption in Hebrew, reading: "Received the Presidential Award of Excellence, 2038." The full-page ad appeared in the Makor Rishon newspaper on May 18 - an online version of the paper can be seen here (the advertisement in question appears on page F27).
READ MORE: Israeli soldiers share juvenile antics on social media as Gaza violence continues (VIDEO)
RT.com has reached out to Ichilov Hospital and Makor Rishon for comment.
The striking image sparked an angry reaction on social media. Jewish Voice for Peace shared a news article about the ad along with the message: "Give peace a chance Israel."
Pro-Palestinian activists took a dimmer view of the maternity ward's decision and offered a more cutting analysis. Author Ali Abunimah shared the image in a tweet, saying: "They teach their children hate, domination and apartheid from before they're even born."
If you like this story, share it with a friend!