Saudi daredevil v speeding truck: Bizarre viral stunt ends in arrest (VIDEO, PHOTOS)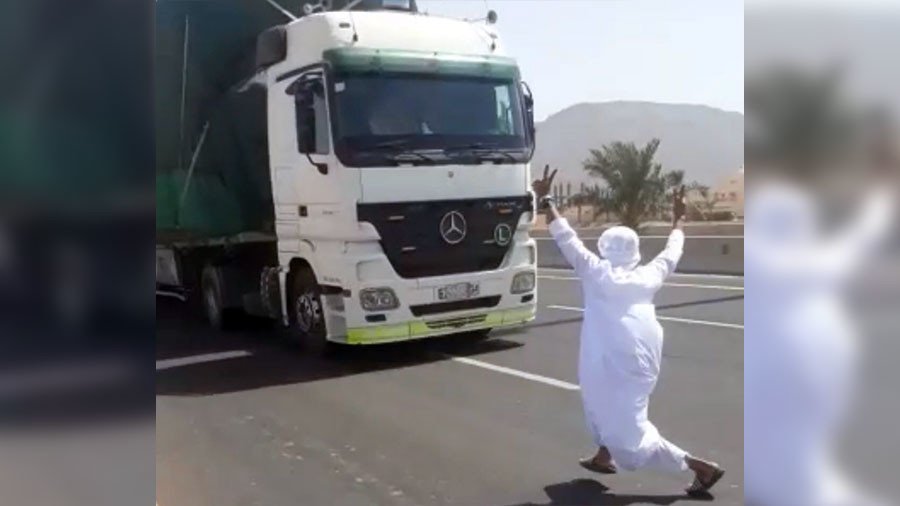 A Saudi man who became a viral hit after jumping right in front of an oncoming truck as part of a dangerous stunt has been arrested over the incident.
READ MORE: Viral 'grad with rifle' image continues to cause a stir as Jim Carrey joins the debate
Nail-biting footage posted to social media shows the man inexplicably jump from the bonnet of his parked car onto a busy road right in front of a speeding truck, forcing it to move into the next lane to avoid hitting him.
The driver blares his horn as the daredevil throws his hands up in the air and leaps in front of the vehicle before jumping back towards the side of the road, somehow unscathed.
تم بتوفيق الله القبض على أحد المواطنين بعد ظهوره في لقطة فيديو وهو يعترض حركة السير على طريق عام بالمدينة المنورة معرضًا حياته وحياة مستخدمي الطريق للخطر، وسيتم استكمال الإجراءات لإحالته للنيابة العامة #المرور_السعوديpic.twitter.com/h8i1K8Peox

— #المرور_السعودي (@eMoroor) May 19, 2018
Police arrested the unnamed individual after the video clip circulated on social media. According to the Khaleej Times the suspect is a teenager.
The General Directorate of Traffic confirmed the incident happened on a highway in Medina and said the case had been forwarded to the Public Prosecutor's office. It added that the reckless individual had endangered his own life and the lives of others with his antics.
Think your friends would be interested? Share this story!
You can share this story on social media: