Viral 'grad with rifle' image continues to cause a stir as Jim Carrey joins the debate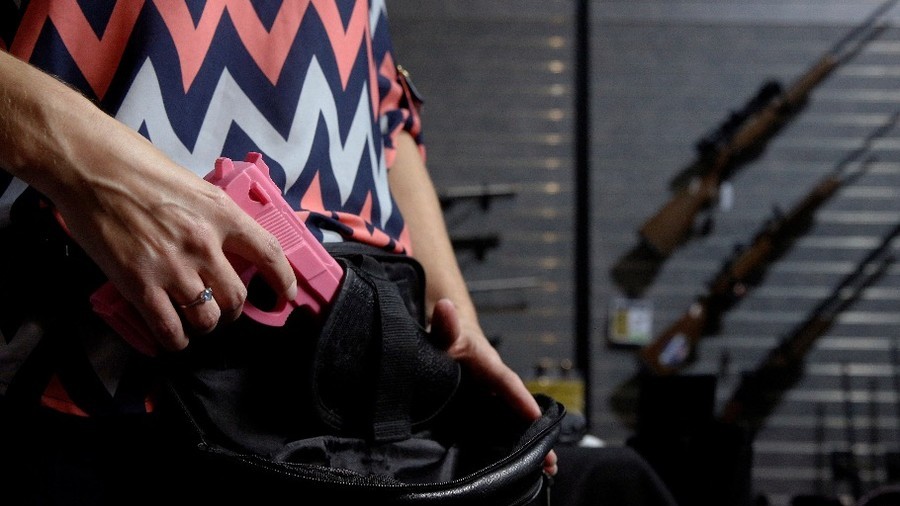 A controversial photo of student activist Kaitlin Bennett proudly bringing a gun to her graduation day continues to divide the American public, after actor Jim Carrey became the latest person to join the heated debate.
Carrey, best known for comedies such as 'The Mask' and 'Bruce Almighty,' is also a prolific painter. His politically charged art often mocks conservative politicians, such as President Donald Trump and Senator Marco Rubio. On Friday, he took a jab at Bennett by depicting her with a deformed face, standing alongside a demon-like figure. "Thanks a bunch Goldilocks. Enjoy the show in Santa Fe tomorrow. Someday, real soon, I'll have you for dinner," the actor wrote on Twitter, apparently referencing the recent high school shooting in Texas, which claimed 10 lives.
Carrey's stunt received a mixed reaction on social media. Some praised his message, commending the Hollywood star for speaking out against guns and promoting the call for tighter gun control.
Others voiced disappointment with the actor's actions, accusing him of bullying, and defending Bennett's right to bear arms.
Bennett herself was quick to respond to Carrey's attack. "Jim you should be the one in this picture with this caption," the 22-year-old wrote. "You're the one that supports gun control policies that let these kids die. Is this what you have to do because you've become irrelevant? Disgusting."
Bennett became a media sensation a week ago, when she donned a white dress with an AR-10 semi-automatic rifle strapped to her back, while graduating from Kent State University in Ohio. As she posed for photographs, she had "come and take it" written on her graduation cap. It was a protest against the university's gun rules, the young woman explained. Kent State allows guests to carry firearms on campus, but not students or staff. Bennett considers the policy "insulting" and insists it makes students less safe.
The photo went viral. As of May 20, it got 28,000 "likes" and was retweeted more than 6,800 times. Bennett was met with cheers for standing up for gun rights. The image also sparked controversy for its gun-friendly nature, as it was posted several months after the deadly Parkland school shooting in February. As a result, Bennett – who was a conservative activist on campus and now holds a biology degree – received death threats. The ensuing backlash led to the right-wing group the Oath Keepers offering her free protection.
Like this story? Share it with a friend!