Protesters defy 1,500 French riot police in renewed expulsions from 'eco-camp'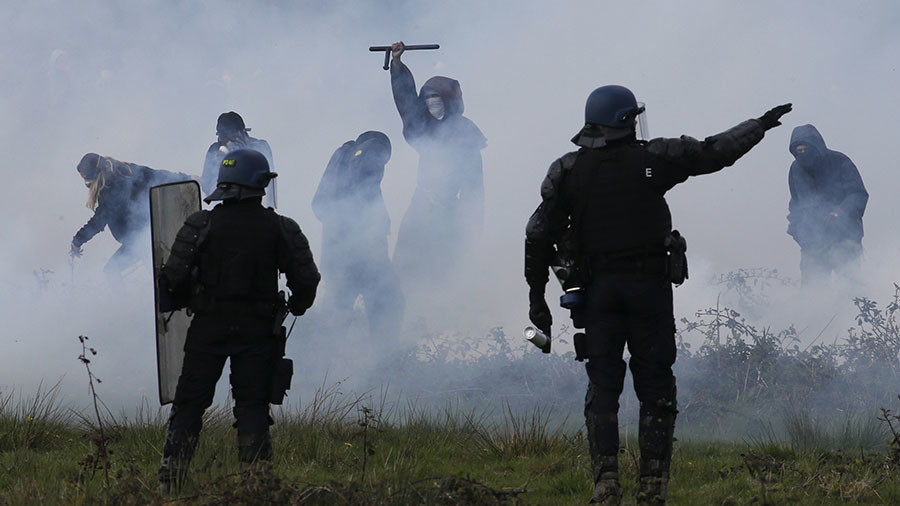 Police deployed tear gas during clashes with squatters on Friday as they attempted to clear an encampment on what, until recently, was the site of a planned airport in western France.
One person has reportedly been seriously injured in the course of the second deportation wave initiated Thursday morning, a month after the first clearing operation failed to evict the squatters.
The environmental activists of the 'Zone to Defend' (ZAD) in Notre-Dame-des-Landes, say they are committed to protect their barracks and tree houses. The site had been earmarked for the construction of the biggest airport in western France, but the plan was dropped in January. However, the government said it would still evict the ZAD.
AFP journalists confirmed that police deployed tear gas, while the squatters responded by setting their barricades on fire and throwing Molotov cocktails. Dozens of police trucks arrived at the site before 6am, while a helicopter was seen flying over the area.
About 1,500 to 1,700 riot police were mobilized to evict a dozen cabins and treehouses. The operation is expected to be "completed by this evening," as the Minister of the Interior, Gerard Collomb, said on Friday, cited by Le Monde. "For us the problem is simple," the minister said. "It is to know the law is respected everywhere in France."
The activists justified living in the rural camp by having created their own farming community. In an attempt to be legally accepted, the activists have filed applications to authorise their agricultural projects. However, according to French authorities, some requests are either still being evaluated, or have been declined. The Minister of Agriculture, Stephane Travert, insisted that expulsions only concerned those whose projects weren't approved and "who had nothing to do on the site." Such individuals "will have to leave," the Minister said.
First plans for the airport are believed to have been mapped back in the 1960s. But it wasn't until 1970 that the spot in Notre-Dame-des-Landes was chosen. The project was put on hold for several decades until it was revived in 2000.
Environmental activists, who over the years have created their own community, argued that the airport construction would cause irreparable damage to the wildlife. During the initial clearing operation in April, police forces tried to evict the activists who fiercely defended their encampment from demolition by covering the area with barricades and burning tires to make barriers.
Think your friends would be interested? Share this story!
You can share this story on social media: