Wilders plans Mohammed cartoon contest as he fights discrimination conviction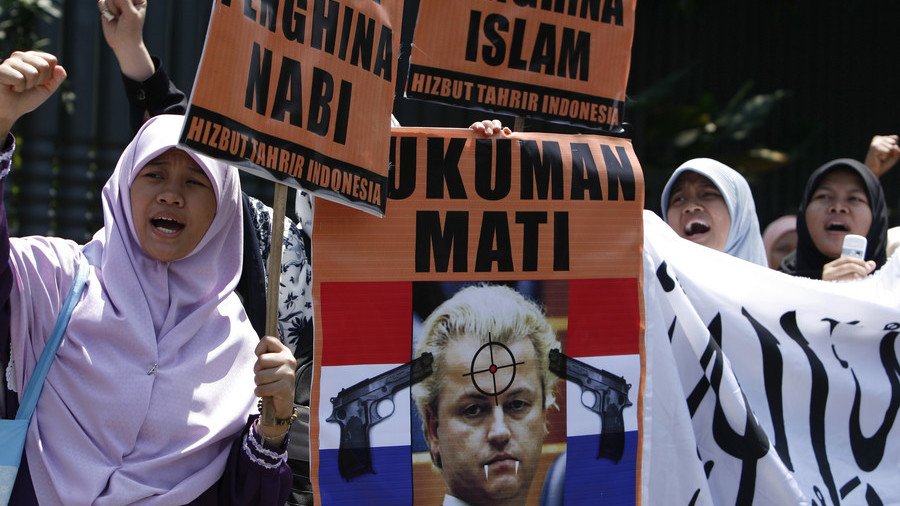 Firebrand Dutch MP Geert Wilders is to run a Mohammed 'cartoon-drawing' contest while he appeals a 2016 conviction for anti-Moroccan comments. The right-wing veteran is perhaps best known for his attacks on Islam.
Wilders, the founder and current leader of the biggest opposition party in the Dutch parliament, the Party for Freedom (PPV), will return to court on Thursday to appeal a conviction for making "demeaning and insulting" comments against people of Moroccan origin.
During a 2014 rally, Wilders asked supporters whether they wanted "fewer or more" Moroccans living in the Netherlands. The crowd shouted back: "Fewer! Fewer!" Wilders answered: "We're going to organize that."
Some 6,400 people, many of them Moroccan immigrants, complained about his comments. However, the appeal judges have ordered the prosecution to provide details about how these complaints were handled.
Freedom of speech is under attack, especially for islam critics. We may never accept that. That's why I will organize a Mohammed-cartoon contest later this year in the Dutch Parliament with the world famous cartoonist and ex-Muslim Bosch Fawstin!#freedomofspeechpic.twitter.com/0EFVTClPrJ

— Geert Wilders (@geertwilderspvv) May 17, 2018
After a three-week trial, a Dutch court ruled that Wilders' statement was "inflammatory" in nature and had encouraged others to discriminate against people of Moroccan origin. The polarizing MP was, however, acquitted of hate speech and his sentence did not include prison time or a fine.
Even after the largely-symbolic conviction, Wilders refused to remain silent. During the 2017 general elections, he vowed as part of his platform to close mosques, ban sales of the Koran and block Muslim migrants from entering the Netherlands.
Wilders used the occasion of the start of his appeal process to announce a 'Mohammed' cartoon competition later this year, adding that he hoped to host the event in the parliamentary complex, despite previously being blocked from doing so.
Over the past several years, Wilders has attended a number exhibits and events focused on satirizing the Islamic prophet. In 2015, Wilders was a keynote speaker at a Mohammed cartoon contest in Texas, where two gunmen were killed after opening fire on a security officer.
In July 2015, Wilders aired a slideshow on Dutch television of the cartoons from the deadly Texas event. He claimed that he was forced to air the cartoons on television because he had been prevented from exhibiting the cartoons at the parliament.
"I do not broadcast the cartoons to provoke; I do it because we have to show that we stand for freedom of speech and that we will never surrender to violence. Freedom is our birthright. Freedom of speech must always prevail over violence and terror," Wilders said at the time.
The move was widely criticized, with Aissa Zanzen, spokesman for the Council of Moroccan Mosques in the Netherlands, calling Wilders' action a crude publicity stunt. "Wilders is out to provoke Muslims and he has done everything he can to do that," he said.
You can share this story on social media: