Protesters stand off against police bulldozing 'eco-camp' to build Airport
Published time: 12 Apr, 2018 19:01
Edited time: 13 Apr, 2018 08:18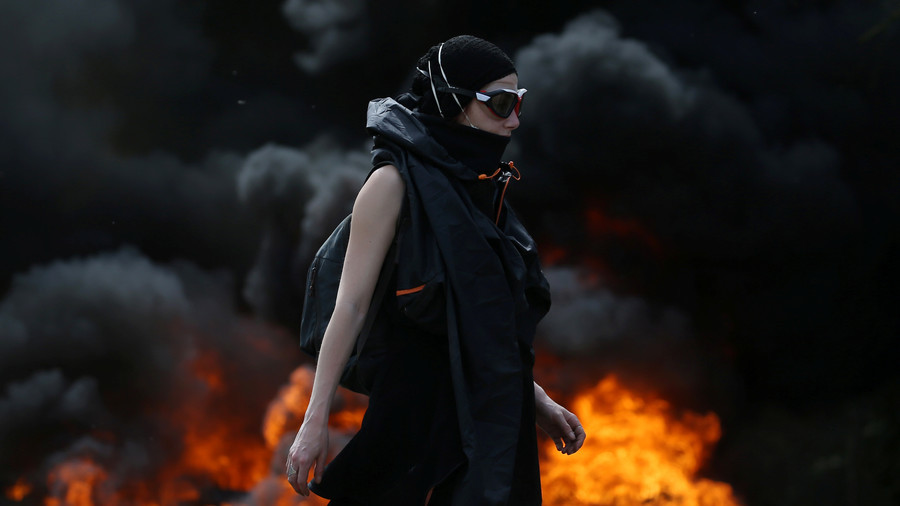 The activists are refusing to budge or abandon their encampment as they face bulldozers that are razing down their barracks that are built on a site destined to become the largest airport in western France.
Activists of ZAD, the French abbreviation for Zone to Defend, have been protesting the demolition of their camp since Monday, covering the area with barricades and burning tires to make barriers.
Clashes broke out on Tuesday as police officers deployed in Notre-Dame-des-Lande, an area near Nantes, to demolish the encampment and evict the squatters. The ZAD claims that 80 people have been wounded in the protests, including several journalists.
The police stormed the site with armored vehicles and tear gas, destroying tents and barricades.
About 250 inflamed activists fought back by throwing smoke flares, rocks and setting bins on fire in an attempt to protect the territory from demolition.
That, however, did not stop the police forces, as they continued clearing the site in the days to follow. As of Thursday, the police are still forcing the squatters to abandon the camp by using tear gas and throwing grenades at the barricades erected by the activists, who are refusing to be evacuated from what they call their home.
"If you want to do something that goes beyond you today, find the courage to come here to defend a zone that is a laboratory for the future and the common good, against the forces of the ancient world," read a message published on the group's Twitter page.
Amid the escalating conflict, the group has pleaded for solidarity actions "everywhere."
"If the French government evicts the ZAD, it will be like evicting hope," the group said in a message published on their blog.
The lucrative project for a Great West airport was expected to attract wealth to the region.
It is believed that the plans for the airport were first mapped out in the 1960s. However, it wasn't until 1970 that the spot in Notre-Dame-des-Landes was chosen. The project was put on halt for several decades until it was revived in 2000.
Protests began in 2009, when hundreds of environmentalists set up a camp to keep the French authorities away from the spot. They argued that the project would cause irreparable damage to the wildlife of the region, as 3,700 acres of fields and woodland chosen for the location of the airport were supposed to be razed to the ground.
Earlier this year, the French government made a decision to put its plan for the Great West airport on hold. The activists encamped on the site were said to have been offered alternative housing, but none of them agreed to willfully abandon the place. The ZAD defenders argued that they already established a new life in the camp, and they had everything they need, including a bakery, a market and even a library.
Like this story? Share it with a friend!