Traitor, terrorism apologist… valuable hostage: Ukraine's blatant crackdown on news agency chief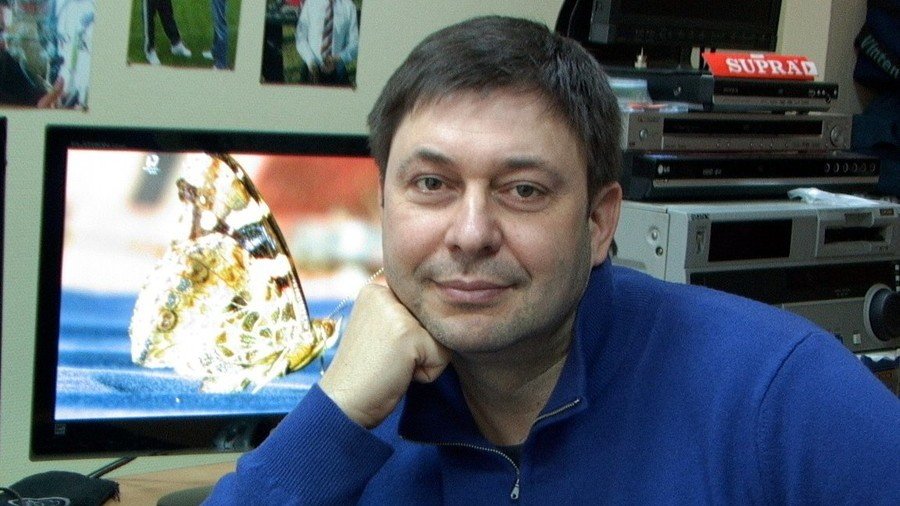 Ukraine's foreign sponsors were put in an awkward position Tuesday, after their mischievous protégé launched a blatant crackdown on a news outlet, arresting its head and branding him a traitor and an apologist of terrorism.
The target for Kiev's attack is RIA Novosti Ukraine, a Russia-linked news agency, and its head Kirill Vyshynsky. The 51-year-old was snatched in the morning near his home in the Ukrainian capital and later sent to another city. As of Wednesday, his wife Irina had no communication with Kirill and is concerned that he may not receive proper medical treatment in the custody of the SBU – the powerful Ukrainian national security service. "This came out of the blue, with no signs something like this can happen," she told Rossiya 24 news program.
The offices of the agency and homes of Vyshynsky and some other employees of RIA Novosti Ukraine were searched by officers of the SBU. The journalists, who were working at the time of the raid, were left incommunicado for eight hours. The website of the agency has not updated since, indicating a continued disruption of its work.
Damning evidence
Ukrainian Prosecutor General Yury Lutsenko posted several photos taken during the searches, presumably showing evidence of the journalist's treason. Some were obviously meant to demonstrate his links to Russia, like his Russian passport (Vyshynsky received Russian citizenship in September 2015, but Ukrainian officials acted as if this was not on the public record), a couple of Russian awards, and a bunch of St. George ribbons, which Ukraine banned from public display last year for political reasons.
There was money – dollars, euros, and rubles spread out on a bed and presumably representing payments from Russia, which the SBU claimed amounted to over $62,000 a month. The bills in the picture amount to about $8,170.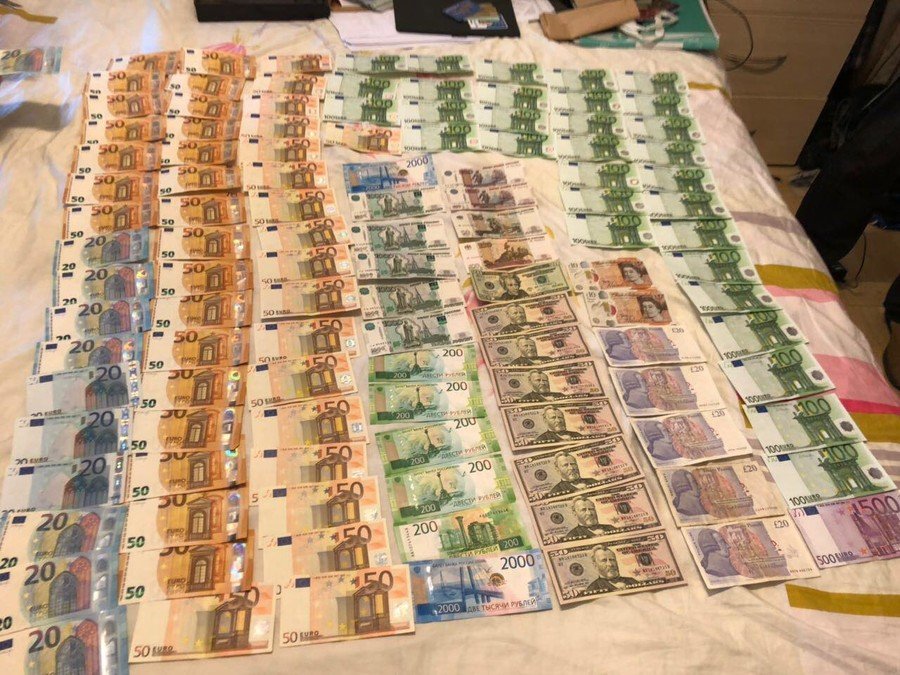 And the most damning proof was a printed map of Novorossiya, a hypothetical entity encompassing south-western Ukraine and Russia's Crimean Peninsula, with the title "Russian Empire" at the top. The inventory, befitting a suspicious Russian agent, was only missing a portrait of President Vladimir Putin and a handgun with the autograph of Defense Minister Sergey Shoigu.
'Disinformation warrior'
The SBU's position is that Vyshynsky is a traitor who engaged in a "disinformation war" against Ukraine on behalf of Russia. Viktor Kononenko, a deputy head of the security agency, said the journalist had betrayed his country back in 2014, when he was "given a mission to go to Crimea to conduct subversive activities," and that after coming back to Kiev he and several other journalists "started active measures to support the terrorist organizations DNR and LNR."
The acronyms stand for two self-declared republics in eastern Ukraine, which rejected the armed coup in the capital in 2014 and rebelled against the new government, which launched a military operation against them. The bloodshed resulted in thousands of deaths and led to no resolution of the conflict. Ukrainian officials consider the rebels terrorists and accuse Russia of supporting them.
Some other Ukrainian officials were even more outspoken in their smearing of Vyshynsky. Lutsenko, the Prosecutor General, called the crackdown "a neutralization of an anti-Ukrainian Russian media structure" involved in conducting "a disinformation war" against the country.
"After the heirs of [Nazi minister of propaganda Joseph] Goebbels from Russia Today [sic!] were banned, the Russian state 'propacondoms' opened in Kiev 'RIA Novosti Ukraine,'" he wrote on his Facebook page. "The actions of these people can be qualified as offenses under Article 111 of the criminal code – state treason."
The news agency is legally an independent Ukrainian organization, but it hardly hides its links to Russia, considering that even its name was borrowed from one of the oldest Russian news agencies, RIA Novosti. Kiev has meticulously barred all Russian media outlets from broadcasting in Ukraine, banning even lifestyle or nature channels, claiming it is necessary to protect Ukrainians from "Kremlin propaganda."
Condemnations and bewilderment
The SBU is not known for finesse, but the crackdown on RIA Novosti Ukraine was ham-fisted even by its standards. Even Ukraine's devoted sponsors expressed concern about it. The US State Department gave a lukewarm endorsement to Kiev, citing its supposed victimhood from the hands of "Russian propaganda," but stressed that arresting journalists has to be done in accordance with international human rights law.
The European Union said national security can only be defended with respect to fundamental rights and stated that it considers media freedom and freedom of expression core values. The Organization for Security and Co-operation in Europe (OSCE) reiterated a call for Ukraine to not impose unnecessary restrictions on foreign journalists.
Several professional organizations, including the Committee to Protect Journalists (CPJ) and the International Federation of Journalists, criticized the Ukrainian authorities for the crackdown and called for the immediate release of Vyshynsky, who is expected to appear in court on Tuesday for a ruling on whether he will remain in SBU custody.
Russian officials were, of course, furious. Kremlin spokesman Dmitry Peskov told the media that "Russia never makes anyone wait for response to such actions against its citizens," but stressed that Moscow is not considering targeting Ukrainian journalists working in Russia in retaliation. The Russian Foreign Ministry sent a note of complaint to Kiev, while its spokesperson, Maria Zakharova, criticized Washington for its ambiguous reaction.
"I am calling on my colleagues from the State Department. Stop pandering to the Ukrainian officials, who have completely lost the concept of human rights. Instead, lecture them sternly, as you have been lecturing everyone else, and demand the immediate release of the media people," she wrote in a Facebook post.
Valuable hostage
Margarita Simonyan – RT's editor-in-chief, who is also in the management of the Moscow-based RIA Novosti – suggested that the arrest of Vyshynsky was meant to draw the attention of the Ukrainian public from the opening ceremony of the Crimean Bridge by Putin.
Ukrainian officials and commentators loyal to the government have been claiming for years that the Russian project is not feasible and is meant to give corrupt officials a way to embezzle taxpayer money. The fact that the bridge was opened ahead of schedule came as a big embarrassment for all those people.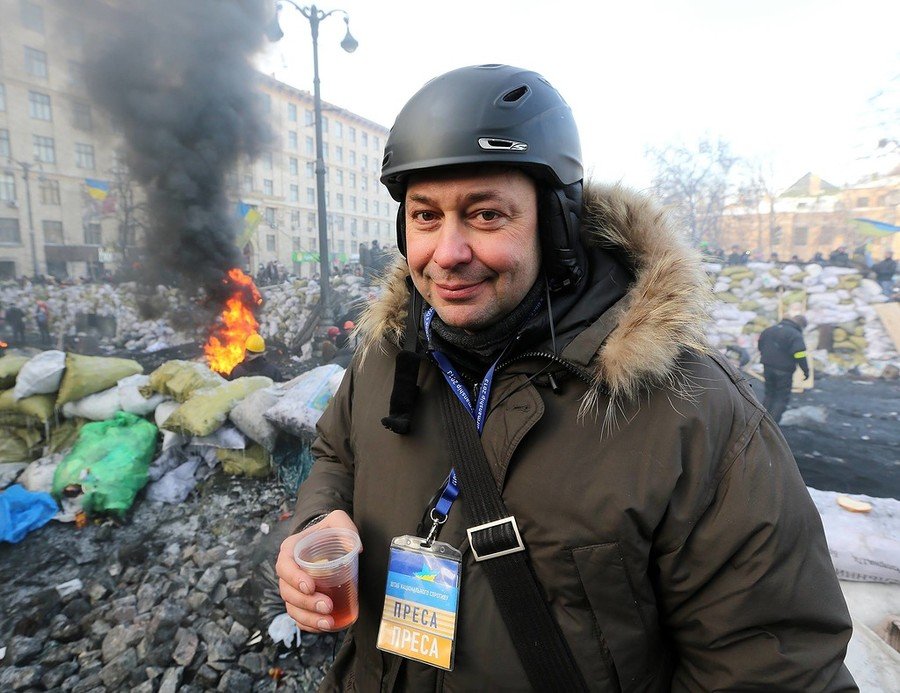 But there may be another explanation, which was suggested by Artem Shevchenko, a spokesman for Ukraine's Interior Ministry. He said the severity of the charges that Vyshynsky is facing would make him a valuable asset for bargaining with Russia. "I suggest that we exchange him for Roman Sushchenko – that would be a fair move," he said, referring to a Ukrainian journalist who was arrested in Russia in 2016 on suspicion of moonlighting for Ukrainian intelligence.
If you like this story, share it with a friend!
You can share this story on social media: