Sichuan captain lands aircraft after co-pilot 'sucked halfway' out the windshield (PHOTOS, VIDEO)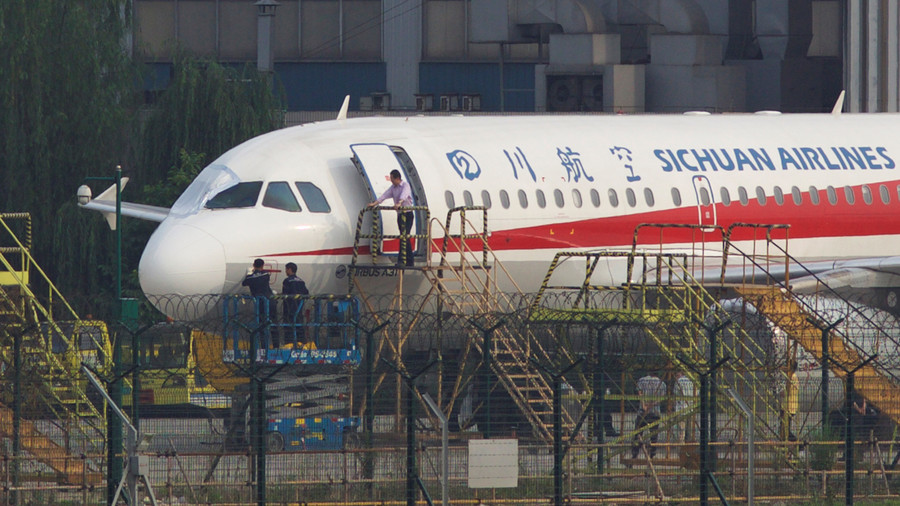 Sichuan Airlines Airbus A319 was forced to perform an extreme emergency landing in China after one of the cockpit's windshields shattered, nearly sucking the co-pilot out of the plane at 32,000 feet.
Flight 3U8633 took off from Chongqing city at 6:26 am on Monday and has managed to climb to 9,800 meters (32,150 feet) when a windshield on the right side of the cockpit was suddenly blown off, forcing an emergency landing at Chengdu Shuangliu International Airport at 7:42 am.
"There was no warning sign. Suddenly, the windshield just cracked and made a loud bang. The next thing I know, my co-pilot had been sucked halfway out of the window," Captain Liu Chuanjian was quoted as saying by the Chengdu Economic Daily.
The co-pilot and another crew member suffered minor injuries, considering the extent of the damage, China's aviation authority said, without providing specifics on what might have caused the incident in the first place. The plane landed safely with all 119 passengers and nine crew members on board.
Sichuan 3U8633 from Chongqing to Lhasa diverted to Chengdu. Lost one windshield at FL332. Descend to FL240 due to high terrain (@flightradar24 data). Cabin decomp. FCU failure and some parts sucked out. Landded safely with bust tires. One pilot and one cabin crew injured. pic.twitter.com/8aViRZoOE0

— ChinaAviationReview (@ChinaAvReview) May 14, 2018
While authorities continue to investigate the accident, Sichuan Airlines noted that the flight had experienced a "mechanical failure." Prior to the emergency landing, Sichuan Airlines flight 3U8633 was bound for the Tibetan capital of Lhasa.
Pictures of the plane posted by users of the Chinese social media platform Weibo showed damaged controls and the missing cockpit window. Footage recorded by the passengers also showed baggage falling from overhead lockers and oxygen masks popping out.
"Everything in the cockpit was floating in the air. Most of the equipment malfunctioned ... and I couldn't hear the radio. The plane was shaking so hard I could not read the gauges," the captain added, according to Reuters.
Monday's accident comes less than a month after a woman was killed in the Southwest Airline's plane engine explosion, which caused one of the passengers to be partially sucked out of the porthole. On May 3, another Southwest Airlines flight was forced to conduct an emergency landing after a cabin window pane cracked in mid-flight.
Think your friends would be interested? Share this story!
You can share this story on social media: