Evacuation alarm in Mexico's capital after quake strikes southern state popular with tourists
Published time: 16 May, 2018 15:01
Edited time: 17 May, 2018 09:15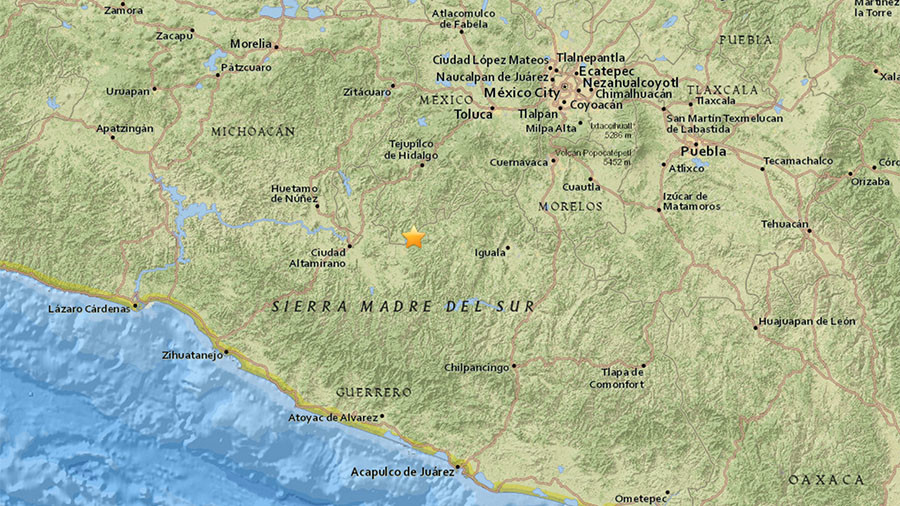 A 5.3 magnitude earthquake rocked the coastal Mexican state of Guerrero on Wednesday. It caused seismic warnings and evacuation procedures in the country's capital, Mexico City.
The earthquake occurred at 9:20am local time, 30 kilometers southwest of the town of Arcelia in Guerrero, the National Seismological Service said. There have so far been no reports of casualties or injuries as a result of the quake.
Evacuation procedures were launched in the capital, Mexico City.
Located on the Pacific Ocean, Guerrero is a popular tourist destination, hosting such famous resorts as Acapulco, Zihuatanejo, and Ixtapa. The state authorities said that more than 1.3 million visited Guerrero in summer 2017.
A total of 370 people were killed and over 6,000 others injured after Mexico was hit by 7.1 magnitude quake in September of last year.
READ MORE: 5.9 magnitude quake shakes Oaxaca, Mexico — USGS
Its epicenter was in the central Pueblo state, but 220 people died in Mexico City, which is built on a former lakebed, a location that magnifies the effect of earthquakes even if they are located hundreds of kilometers away.