5.9 magnitude quake shakes Oaxaca, Mexico — USGS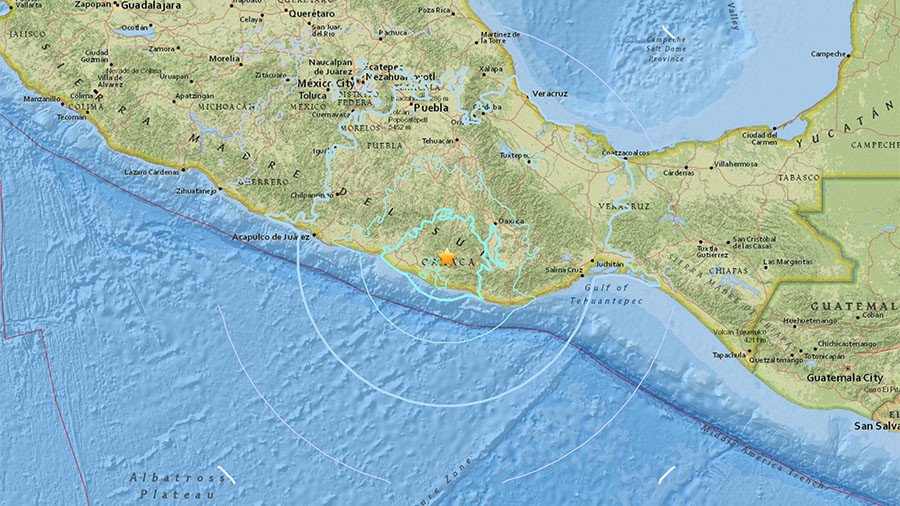 A powerful 5.9 magnitude earthquake has struck the Mexican state of Oaxaca, with shockwaves hitting the country's capital Mexico City.
The quake rocked Oaxaca state in southwestern Mexico, according to the United States Geological Survey (USGS). The epicenter, which lay at a depth of 40km, was close to the city of Pinotepa Nacional, which has a population of 26,000.
The earthquake woke residents of Mexico City, with many people running into the streets.
This is the second quake to shake the region in the past three days. On Saturday, another powerful magnitude 7.2 earthquake hit Oaxaca state at a depth of 24.6km (15.3 miles) near the Pacific coast.
Shockwaves were felt as far away as Mexico City, sending locals into streets. Earthquake alarms sounded across the capital and adjacent areas.
Authorities said at the time that emergency communications had been established with all states that were affected by the quake. Damage was caused to buildings in Oaxaca, but there were no reports of casualties.
READ MORE: 7.2 magnitude quake hits Mexico near Pacific coast
Earthquakes are commonplace in Mexico, which is known for its rugged, mountainous terrain. USGS says Mexico, located on top of three large tectonic plates, "is one of the world's most seismically active regions."
The strongest earthquake to date took place in September last year, leaving over 200 people dead in central Mexico. Some 3.8 million people have been left without power as the result of the quake, with has also led to fires in buildings across Mexico City, with some people trapped inside.

If you like this story, share it with a friend!
You can share this story on social media: