7.2 magnitude quake hits Mexico near Pacific coast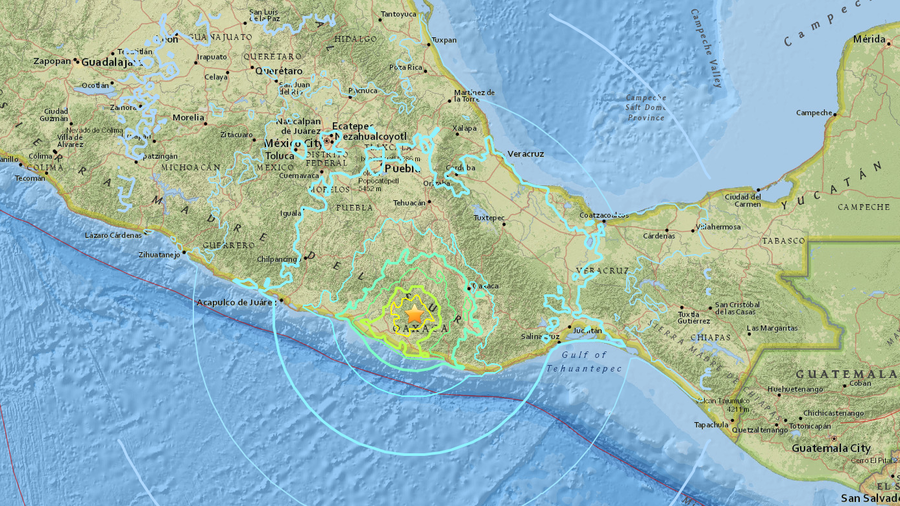 A powerful earthquake with a magnitude of 7.2 has rocked southern and central Mexico. The tremors reportedly shook buildings across the country's capital.
The quake hit the southwestern Mexican state of Oaxaca, United States Geological Survey (USGS) reports. Situated closest to the epicenter is the municipality of Pinotepa de Don Luis, with a population of some 6,700. Tremors were felt as far as Mexico city, with locals posting videos of shaking trees and buildings to social media. Alarms went off across the capital and thousands of people flooded into the streets.
The quake, which has been revised from a 7.5-magnitude in earlier reports, hit at a depth of 24.6 kilometers (15.3 miles) near the Pacific coast. No tsunami warning has been issued.
Mayor of Mexico City Miguel Ángel Mancera wrote on Twitter that review protocols have been activated.
Civil Protection Service, which has been assessing the impact of the quake, stated that no damage has been reported so far.
The Mexican Secretary of the Interior Alfonso Navarrete reported that emergency communications have been established with all states that were struck by the quake. He said that damage was caused to buildings in Oaxaca, but there have been no reports of casualties so far. Navarrete said he is going to visit the epicenter of the quake in Oaxaca.
READ MORE: First damages reported from 7.2-magnitude Mexico quake (PHOTOS)
"So far only material damages are reported, without loss of human life," Civil Protection Service tweeted, adding that its inspection in Oaxaca is underway.
As of 20:30 pm [2:30 GMT] Mexico's national seismological service has detected 150 aftershocks,some as strong as magnitude 5.9.
The quake apparently stirred the Popocatepetl volcano, which videos and photos on social media show spewing ash and smoke into the air.
Mexico is still recovering from a 7.1-magnitude earthquake that killed some 370 people in September 2017.
You can share this story on social media: