Cracks in walls, falling ceilings & evacuations amid 7.2-magnitude Mexico quake (PHOTOS, VIDEO)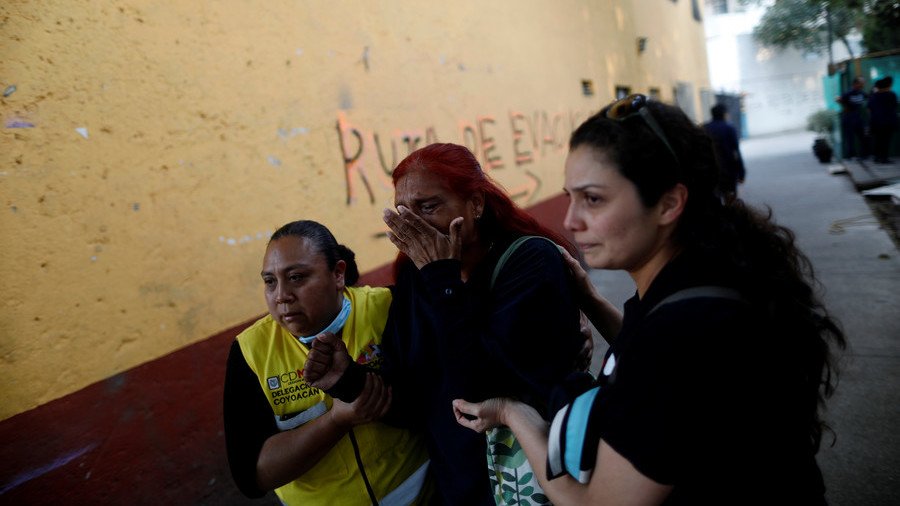 Pictures have been posted on social media showing the destruction caused by the 7.2-magnitude earthquake that hit Mexico on Friday. The tremors were felt in the capital, hundreds of miles away from the epicenter.
Images on social media, posted from the state of Oaxaca, where the quake hit near the Pacific coast, show cracked building walls with crumbled plaster, bricks and pieces of roofs scattered on the ground. Several images from inside shops show broken merchandize and spilled bottle contents littering the aisles.
READ MORE: 7.2 magnitude quake hits Mexico near Pacific coast
The ceiling of a local store has reportedly collapsed in the Oaxaca state's capital.
So far, no deaths have been reported in the wake of the quake, according to the Mexican interior minister.
While the interior minister said damage was contained to Oaxaca, videos posted by eyewitnesses in Mexico City appear to show thick clouds of dust filling a street, apparently caused by parts of a building's facade collapsing.
The quake has affected the state hospital in Oaxaca, with photos showing bricks piled up on the floor, damaged computers and dangling wires. The hospital said it has been conducting a review of all its clinical and administrative buildings.
Heavy damages have been inflicted on the hospital in Jamiltepec, where over 30 patients, including newborns, have been evacuated and treated outside, according to local media reports.
A church and a municipal building in the town have also sustained severe damage. A total of some 50 buildings have been affected. Two shelters have been set up, including in a local school.
Blackouts have been reported across Pinotepa Nacional and Jamiltepec. About a million homes and business in the towns have fallen into darkness as result of power shutdowns.
You can share this story on social media: