Tesla bursts into flames after fatal crash in Switzerland (PHOTOS)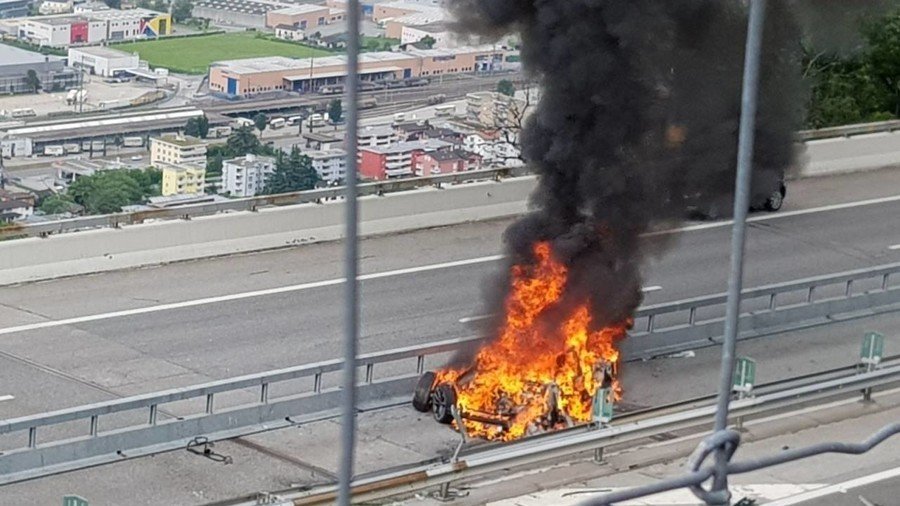 Swiss firefighters have indicated the impact of a fatal crash involving a Tesla car may have triggered a battery fire, causing the vehicle to go up in flames.
A 48-year-German driver died on Thursday when his car hit a barrier on a motorway in the canton of Ticino, southern Switzerland. The car burst into flames and was attended to by Bellinzona firefighters, who say the blaze may have been caused by the Tesla battery.
READ MORE: Out with nepotism! Tesla investors want Elon Musk's brother booted off board
"The violent impact of Lithium-ion batteries could probably have caused a phenomenon called 'thermal runaway,' i.e. a rapid and unstoppable increase in temperature," the fire crew wrote on their Facebook page following the crash.
The firefighters also linked to an article from Fire Fighting Italy outlining the risks of electric vehicles. According to the report, the main problem in terms of fire risk for electric vehicles lies in the so-called "thermal runaway." This can lead to the breakdown of the thermal balance of the system and the complete destruction of the batteries and the car. The study notes, however, that this occurs only in extreme conditions.
The Facebook post was removed on May 15 and replaced with a less detailed statement about the fire. RT.com has reached out to the firefighters for more information.
A Tesla spokesman said: "We are deeply saddened by this accident, and we are working to establish the facts of the incident and offer our full cooperation to local authorities." The company is cooperating with Swiss authorities to establish the cause of the accident.
The crash is one of several Tesla accidents currently under investigation. On Friday a Tesla Model S crashed into the back of a firetruck in South Jordan, Utah. Although the Model S can be driven autonomously, it remains unclear whether the car's autopilot feature was turned on at the time of the crash.
Tesla CEO Elon Musk took to Twitter to criticise media coverage of the Utah smash.
What's actually amazing about this accident is that a Model S hit a fire truck at 60mph and the driver only broke an ankle. An impact at that speed usually results in severe injury or death.

— Elon Musk (@elonmusk) May 14, 2018
READ MORE: Tesla with self-driving capability crashes into fire truck, investigation launched (PHOTO)
The National Transport Safety Board is already investigating two fatal incidents involving Tesla vehicles. Last week a Model S crashed into a concrete wall and caught fire in Florida, killing two teenagers. The agency and Tesla have both stated that they do not believe the accident was caused by the car's autopilot feature. Meanwhile, a fatal crash in California, which happened when a Model X was on autopilot mode, is still under investigation.
Think your friends would be interested? Share this story!
You can share this story on social media: