Security Service of Ukraine cracks down on Russian news agency, detains editor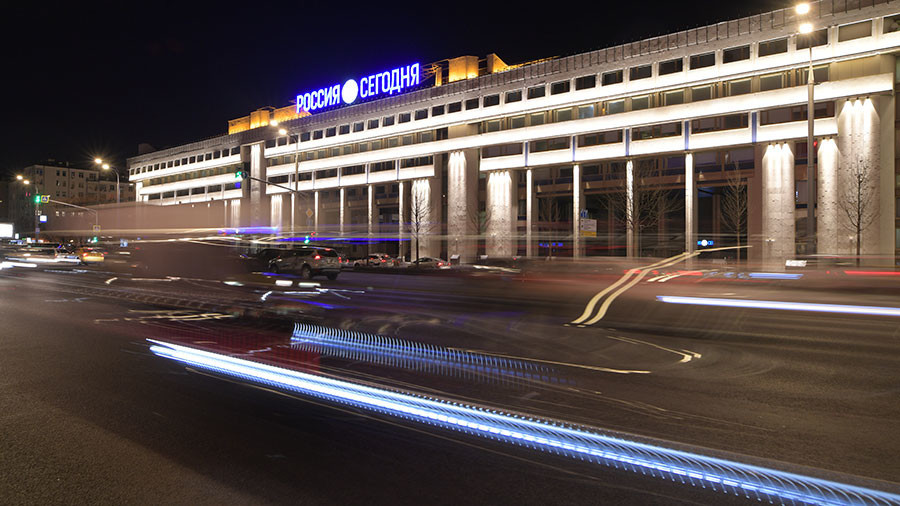 The Security Service of Ukraine (SBU) is raiding the Kiev office of the Russian news agency RIA Novosti. It comes after the branch chief was arrested by Ukrainian law enforcement.
RIA Novosti reported that its office in the Ukrainian capital was targeted by the SBU on Tuesday morning. Hours earlier, Kirill Vyshynsky, who heads the Ukrainian bureau of the agency, was detained by authorities near his home in Kiev.
The arrest and raid are part of an investigation into "a network of media structures used by Moscow to wage a hybrid war" against Ukraine, SBU spokesperson Elena Gitlyanskaya said in a Facebook post.
Both the detained journalist and the office are currently incommunicado, RIA Novosti said. No updates have been posted recently on the website of the Ukrainian branch of the news agency.
The Ukrainian authorities have a long record of harassing Russian journalists, regularly expelling them from the country or refusing access to government buildings and events. Kiev often labels such people "Russian propagandists" and claims its actions are justified as matters of national security.
The latest incident happened last week, when two journalists working for Russian television were expelled by the SBU for allegedly planning to discredit the Ukrainian government by reporting on how Ukraine celebrates Victory Day. One of the journalists was forced to return to Russia and the other to her homeland of Kazakhstan before they could cover the events.
Earlier in May, the SBU refused entry to three journalists from Russia, Italy, and the Czech Republic who were going to Ukraine to cover the anniversary of the 2014 tragedy in Odessa. On May 4, 2014, clashes between supporters of the post-coup government in Kiev and their opponents turned violent and led to an attack of angry radicals on a camp of their opponents. The people took cover in a nearby building, which was then set on fire by a mob of radicals, resulting in the deaths of dozens of people.
Margarita Simonyan – RT's editor-in-chief, who is also in the management of RIA Novosti – tweeted that the SBU action is "revenge" for the scheduled opening of the Crimean Bridge on Tuesday.
The bridge is a major engineering achievement for Russia, connecting its mainland with the Crimean Peninsula, the former part of Ukraine that Kiev still considers under its jurisdiction. The Gitlyanskaya statement referred to "Crimean prosecution" as a party to the raid.
Think your friends would be interested? Share this story!
You can share this story on social media: