Hezbollah promises strikes against Israel's 'very heart' if it continues crossing 'red lines'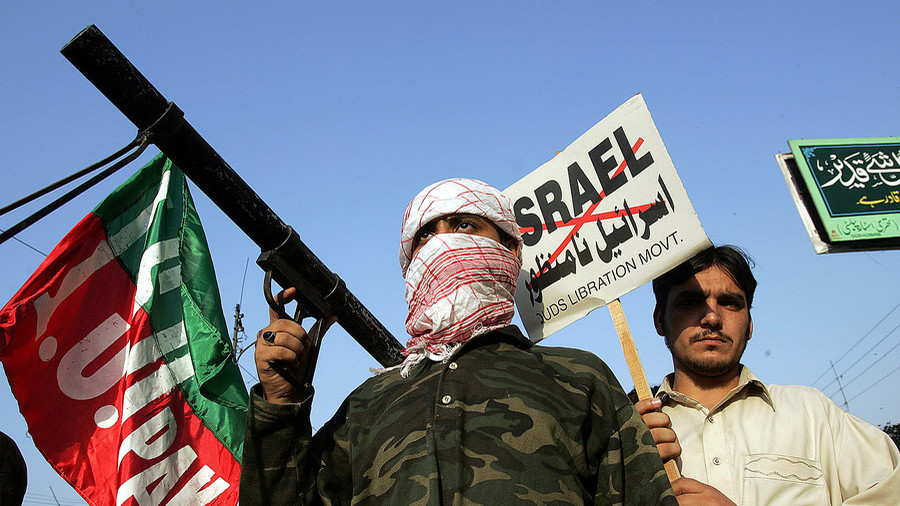 The leader of Lebanon's Hezbollah has warned Tel Aviv against crossing any more "red lines," claiming that the latest Israeli strikes on Iranian targets in Syria already triggered an "entirely new" stage of the confrontation.
"An entirely new phase" of armed resistance against Israel began last week, the leader of Lebanon's Hezbollah, Sayyed Hassan Nasrallah, noted on Monday night, claiming that some 55 missiles – including some "heavy" ones – were fired into the Israeli-occupied Golan Heights last Wednesday evening.
READ MORE: 'Iran has no reason to strike Golan': Analysts dispute Israel's 'political' claim of missile attack
While stopping short of confirming or denying if Hezbollah was involved in the attacks on the Golan Heights, Nasrallah did note that "this is just one form of retaliation for the continuous Israeli aggression against Syria."
"The message was delivered to the Israeli enemy. It said that the era when you hit Syria without response is over," Hezbollah's leader added in a televised speech.
While there were no casualties, with Israel claiming all of around 20 projectiles were fired at the Golan Heights were either intercepted by the Iron Dome defense system or failed to reach their intended targets, the attack was immediately pinned on Iranian Quds Forces. In retaliation, Israel scrambled over two dozen jets to strike Iranian-affiliated targets in Syria.
A total of 70 projectiles, including 60 air-to-surface rockets and 10 surface-to-surface missiles, were unleashed on Iranian military targets and Syrian air-defense systems near Damascus and in the south of the country on Thursday morning, according to the Russian military.
While Israel again reiterated that it reserves the right to confront any threat to its national security, in particular by striking alleged Iranian-linked weapons depots that Israel believes are destined for Hezbollah – Nasrallah has warned Tel Aviv against their irresponsible deeper involvement in Syria.
If Israel "once again crossed red lines, the next strike will be at the very heart of Palestine and not just near the Golan border," Nasrallah said, without providing specifics. "If you thought that you could kill and bomb without receiving a response, then you are wrong and misguided, and the response will be in the appropriate form and time."
READ MORE: Israeli strikes on Syria raise threat of military confrontation with Tehran – Russian MP
Using the opportunity, Nasrallah also slammed the American support for Israel and Donald Trump's withdrawal from the 2015 Iran nuclear deal last week.
"The US works according to its own interests as well as the interests of the Zionist entity," Nasrallah said. "The US is not trustworthy because it respects neither the international agreements nor its allies."
If you like this story, share it with a friend!
You can share this story on social media: