At least 1 dead, attacker killed in mass stabbing in central Paris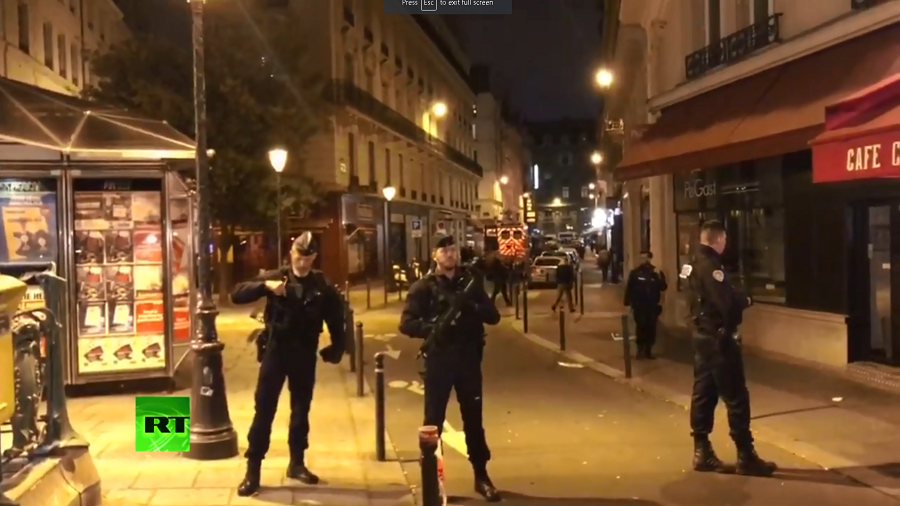 Several people have been stabbed at the Place de l'Opéra in central Paris, with police confirming the attacker has been neutralized. Footage from the scene shows people running in panic and a body covered in blood.
Paris police have confirmed that the assailant has been killed. They said five people were injured in the attack, two of them critically, and one victim died.
The attack took place in the heart of the city, in the 2nd arrondissement of Paris.

DERNIÈRE MINUTE : Attaque au couteau dans le 2ème arrondissement de Paris (secteur proche métro Quatre Septembre).Plusieurs victimes. pic.twitter.com/Di3NoGkual

— Remy Buisine (@RemyBuisine) May 12, 2018
Video footage shared by local journalist on the scene, Remy Buisine, shows several emergency vehicles crowding a laneway where the attack took place.
I was in a restaurant rue saint Augustin in the 2eme arrondissement , crowd panic, blood, a guy with a knife in the streets and people screaming, avoid the area if you can 🙏🏼 #Paris

— Fiona Zanetti (@FionaZanetti) May 12, 2018
Disturbing footage purportedly filmed from the window of Hotel Louvre Marsollier on Rue Marsollier, where the attack took place, was posted by Carol Drummond on Twitter. It showed people running through the streets in a panic, as a body lays on a crosswalk in the street. Drummond has since deleted the video.
"I welcome the cool response of the police,"tweeted French Interior Minister Gerard Collomb. "My thoughts are with the victims of this heinous act"
Police yet have to identify the motive of the attacker and determine whether the attack was linked to terrorism. A spate of attacks has rocked Paris in recent years, including the November 2015 attacks perpetrated by Islamic State (IS, formerly ISIS/ISIL) militants that left over 130 people dead.
READ MORE: French authorities investigating Paris stabbing as terrorism
Several media outlets, citing witnesses, reported that the assailant shouted "Allahu Akbar" ("God is great" in Arabic) as he attempted to charge at the diners in one of the restaurants at the scene. One witness, identified only as Fiona, told the Independent that the visitors of a local restaurant barricaded themselves inside against the rampaging attacker.
"Some guys including my friend blocked the door in case he would try to enter," Fiona told the newspaper.
Jonathan, a waiter at a restaurant near the Opera House told Europe 1 that the assailant was acting like he was "crazy or drugged." The station also reported, citing sources, that the attacker appeared to shout "Allahu Akbar."
Jérémie Pham-Lê, a journalist at Le Parisien, reported, citing a police source, that the man was goading police into using lethal force on him, shouting "kill me or I kill you," as law enforcers arrived.
You can share this story on social media: