Stun grenades fired at Palestinian protesters just days before Nakba Day (VIDEO)
Fresh clashes have been observed in Bethlehem ahead of the Day of the Catastrophe, a Palestinian remembrance march marking Israel's occupation.
Ahead of Nakba Day on May 15, an annual event also referred to as the Day of the Catastrophe, Israeli soldiers reportedly fired stun grenades at Palestinian protesters who had gathered near the Israel border.
READ MORE: US to open new embassy in Jerusalem in May - State Department
Palestinian demonstrators assembled at Nissan Square in Bethlehem on Thursday, before making their way to a hillside opposite the Israeli settlement of Har Homa.
Footage shows Palestinians carrying flags with the pan-arab colors as they prepared to commemorate the 70th annual Nakba Day, which follows Israel's Declaration of Independence in 1948.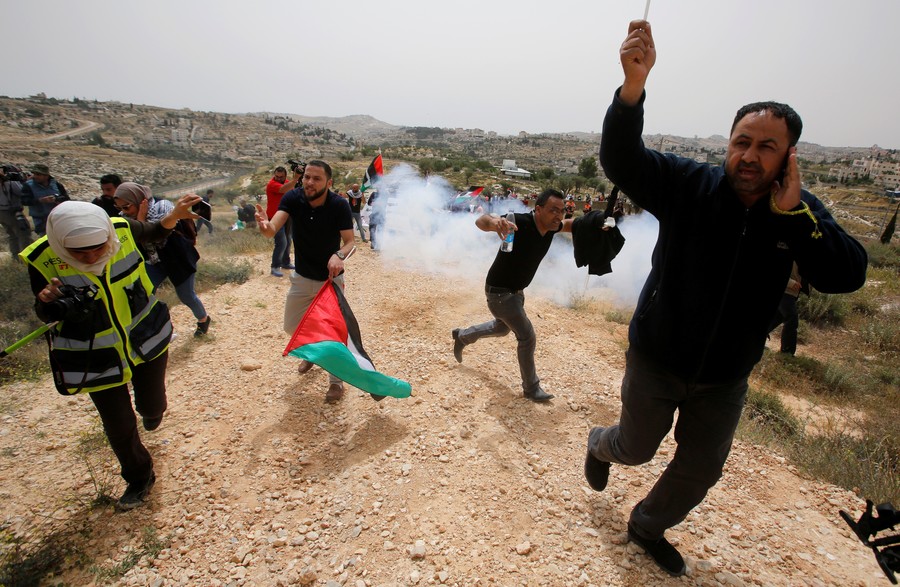 Demonstrators at the event also condemned US President Donald Trump for his decision last year to move the US embassy to Jerusalem from Tel Aviv. The embassy move ignited violence in the region, with the move effectively recognising the contested city as belonging to Israel.
READ MORE: US 'destroying grounds for peace' with Jerusalem embassy move in May – Ankara
The embassy is set to be up and running by next week. The decision was highly criticized at the by some countries, with the UN Nations General Assembly voting 128 to 9 in favor of a resolution calling for the US to reverse its decision.
However, the resolution is non-binding and the US president has said he is "looking forward" to seeing the new embassy in Jerusalem this May.
Best wishes to Prime Minister @Netanyahu and all of the people of Israel on the 70th Anniversary of your Great Independence. We have no better friends anywhere. Looking forward to moving our Embassy to Jerusalem next month!

— Donald J. Trump (@realDonaldTrump) April 18, 2018