Iran will take long time to recover after Israel hit 'dozens' of targets in Syria – IDF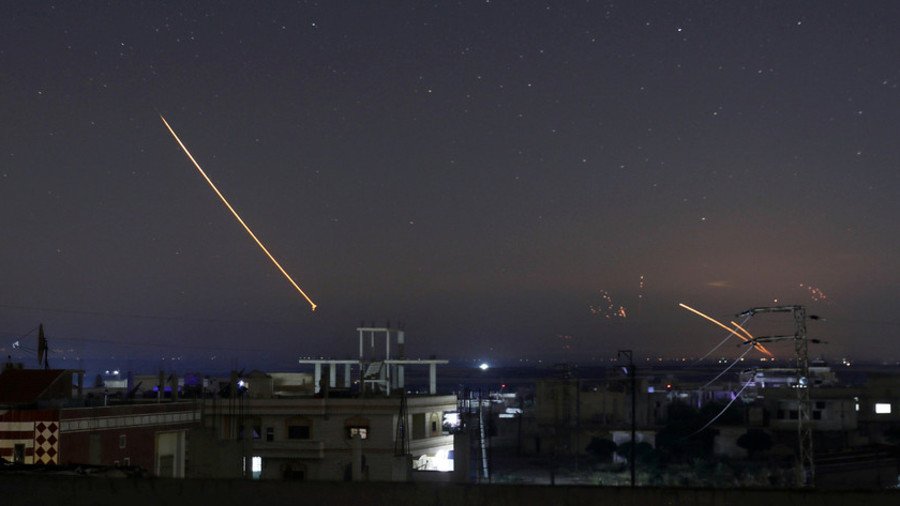 Israel has carried out what it calls one of the most extensive military operations in years against dozens of "Iranian" targets in Syria. Tehran will need "a lot of time" to recover from the massive attack, according to the IDF.
Iran paid a "heavy price" with multiple Israeli airstrikes against what Tel-Aviv says were targets belonging to the Iranian Revolutionary Guard Corp's Quds Force, the Israeli Defense Forces (IDF) said on Thursday. The overnight strikes came in response to an attack aimed at Israeli targets in the Golan Heights, which Tel-Aviv attributes directly to the Iranian forces. The alleged Iranian attack resulted in no casualties or damage to Israeli infrastructure, as no rockets hit Israeli-held territory.
READ MORE: Israeli missiles hit Syrian radar, air defense sites – state media
"Iran will need a lot of time and resources to rehabilitate its operational, military and intelligence infrastructures we hit tonight," an IDF spokesman said, according to Ynet, warning that "any other attempt" to hurt Israel will "pay even more."
The IDF has struck dozens of Iranian military targets in Syria in response to the Iranian rocket attack against Israel. Quds force is behind attack and has played the initial price. IDF remains ready for various scenarios but does not seek to escalate the situation. pic.twitter.com/4rC8gHK2LG

— Jonathan Conricus (@LTCJonathan) May 10, 2018
A map of the military targets provided by the Israeli army shows multiple sites near Damascus and also near the Syria-Israel border. Israeli Defense Minister Avigdor Lieberman claims "all the Iranian infrastructure" in the Arab republic was hit.
While claiming that Tel-Aviv is not seeking further escalation, the IDF says that "the Syrian regime will be held accountable for everything happening in its territory," and has warned against any retaliatory attack.
"They must understand that if it rains here, it will pour there," Lieberman said at the Herzliya security conference near Tel Aviv several hours after the operation. He added that Israeli forces remain on high alert, but hopes this "chapter" is finished.
The overnight assault on the Syrian territory was one of the largest in recent years, according to the IDF statement. It said that Israeli jets hit intelligence sites and arms depots, among other military targets allegedly operated by the Iranian forces. Syrian state media earlier said that a Syrian radar was hit in the attack, while "tens" of incoming missiles were shot down.
The attack may be the largest since 1974, when Israel and Syria signed a disengagement agreement that ended the 1973 Arab-Israeli War (The Yom Kippur War), according to Haaretz, which cited an unnamed source in the Israeli security establishment.
You can share this story on social media: