Immortal Regiment in space: Russian cosmonauts honor WWII heroes on Victory Day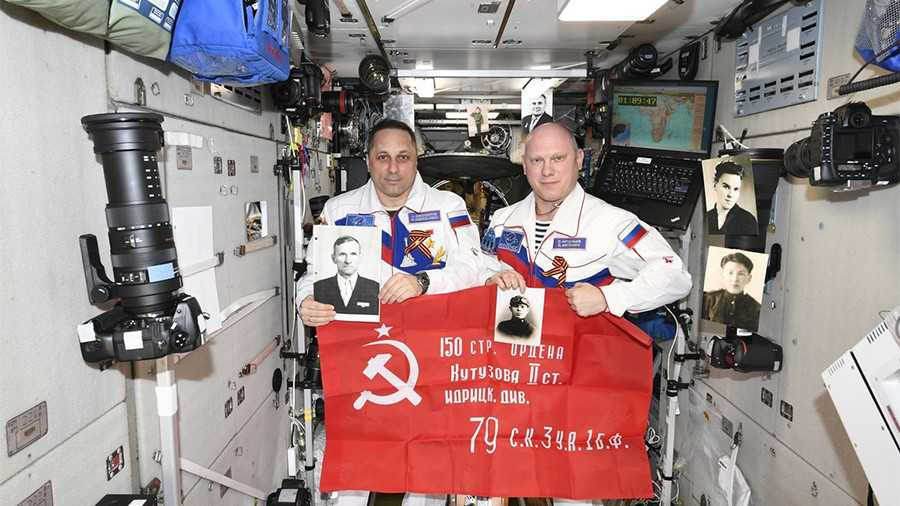 Cosmonauts have joined the Immortal Regiment march from space, posing with portraits of their relatives who fought in World War Two at the International Space Station and congratulating the country for its victory over the Nazis.
Russian ISS crew members Anton Shkaplerov and Oleg Artemyev also unraveled a replica of the Victory Banner, which was raised by Soviet soldiers atop the Reichstag building in Berlin on May 1, 1945.
А на этом снимке правнук отдает честь прадеду. Сожалею, что не получилось взять фотографии всех своих дедушек и бабушек... Но самое главное – наш долг сохранить память о поколении, прошедшем через войну и передать нашим детям. Это по-настоящему важно! Еще раз с Днём Победы! pic.twitter.com/CpBe8C66hT

— Oleg Artemyev (@OlegMKS) May 9, 2018
In photos posted on Twitter, Shkaplerov is seen holding the portrait of his grandfather, who not only fought the Nazis but also participated in the war against the Empire of Japan in 1946. Artemyev brought photos into orbit of two of his grandfathers, who took part in the military action at Volkhov Front, which was organized to stop the Nazi forces advancing on Leningrad, and in the Far East, respectively, as well as his grandmother, who worked hard at the home front to bring the victory closer.
They also congratulated the country on Victory Day in a video address, in which Artemyev said that "the War crossed the life of every family and we remember everyone, who gave their life for us, our children and our freedom. 73 years have passed, but we're still finding out new things about the battles gone by and feast of our compatriots."
Shkaplerov said that the Victory Day also provided a perfect opportunity to "think of the future; a beautiful future without war, pain, humiliation and fear. Here at the ISS, we understand very well that it is possible."
"We're all people; representatives of the human civilization. And understanding the horror survived by our ancestor, every one of us should - must do everything so that our kids wouldn't even know such word as 'war,'" he added.
The Immortal Regiment tradition was launched in Russia in 2011 and has been gaining strength since then, becoming an international phenomenon. More than 10 million people took to the streets in Russia on Wednesday with portraits of their relatives who helped defeat the Nazis, setting a record for the event.
Think your friends would be interested? Share this story!