'Forced to swallow boiling water': Kindergarten teacher faces child abuse probe (VIDEO)
Published time: 8 May, 2018 16:14
Edited time: 9 May, 2018 10:38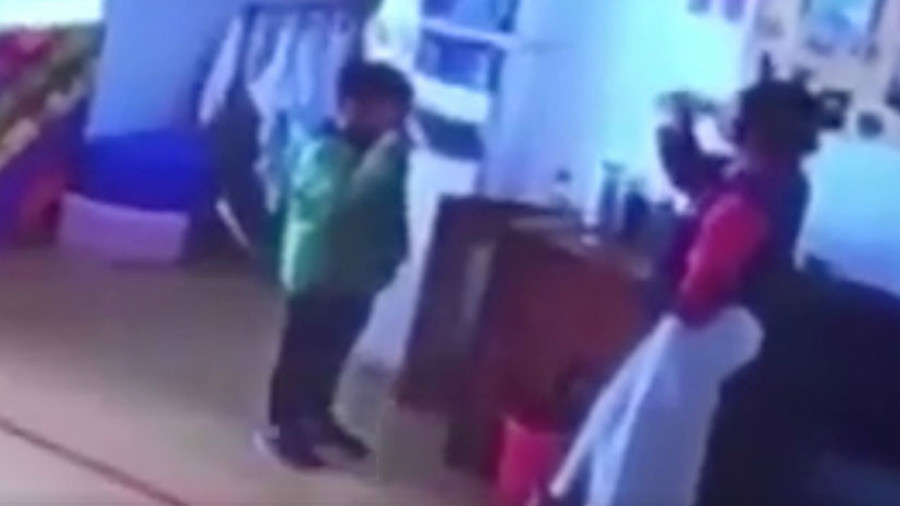 Chinese police are investigating after a kindergarten teacher was caught on tape allegedly forcing young students to drink cups of boiling water as a form punishment.
The shocking act of cruelty was discovered by a parent, Ms Li, whose son, Xiaoming, was unable to eat his dinner because he said his throat hurt. The mother took the child to the doctor where it was found that his throat was completely raw and swollen.
After questioning the young boy, Ms Li learned that the child's kindergarten teacher has forced him and several of his classmates to drink several cups of scalding hot water as a punishment for talking during lessons, Chinese news website The Paper reports.
The incident took place on the morning on April 26 in the city of Yangzhou in eastern China. The kindergarten's video monitor captured footage of the incident which was published by The Shanghaiist. It shows the small children gathered in a group as the teacher stands over them and doles out the punishment drinks.
Xiaoming was forced to drink four cups while three other students drank a cup each. The child was unable to finish drinking the cups because the water was too hot.
The Paper reports that the teacher didn't hold the necessary qualifications to teach and has been suspended from work.
She contacted Ms Li in an attempt to apologize but the mother refused to accept her gesture. She said her family is waiting for the findings of the police investigation before deciding what to do next.
Think your friends would be interested? Share this story!