First time in 360: RT takes you aboard legendary WWII Soviet 'flying tank' IL-2 (VIDEO)
Published time: 8 May, 2018 13:15
Edited time: 8 May, 2018 14:05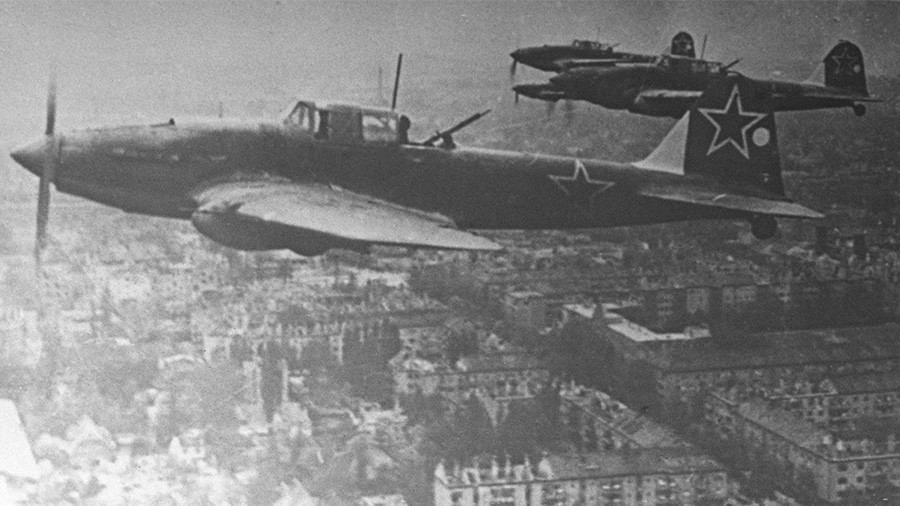 RT has shot panoramic in-flight video from an Ilyushin Il-2, the Soviet ground-attack plane that became iconic during World War II. The aircraft is one of only two still capable of flying.
The armored Il-2 is among the most mass-produced piloted aircraft of all time, with over 36,000 built. The aircraft was first introduced just before Soviet Union entered WWII in 1941 and remained one of key air assets throughout the war, wreaking havoc among the Nazi infantry and tank troops. There are now just two Il-2 planes still capable of flight. RT shot a 360-degree video from one of those during the ILA Berlin Air Show in April.
The aircraft owes its present good condition to an unlucky hit it received in November 1943 in Murmansk region. The pilot managed to land on a frozen lake, but the plane was not recovered and sank - only to be revived over six decades later in 2012. History enthusiasts managed to repair it so that it could fly once again.
The first ever 360 video from IL-2 was produced as part of RT's collaboration with the Ilyushin Aviation Complex, as the plane's original designer is now called. Installing a panoramic camera on the plane required special expertise, so that it didn't compromise safety.
READ MORE: Ride the Msta-S howitzer through Red Square in RT 360's V-day parade rehearsal VIDEO
The video is one of several prepared by RT for the upcoming Victory Day celebration. Stay tuned to watch a 360 clip shot from an Il-76 transport plane flying in formation over Moscow during a rehearsal of the V-day parade.
If you like this story, share it with a friend!