Ride the Msta-S howitzer through Red Square in RT 360's V-day parade rehearsal VIDEO
Published time: 7 May, 2018 01:10
Edited time: 7 May, 2018 09:43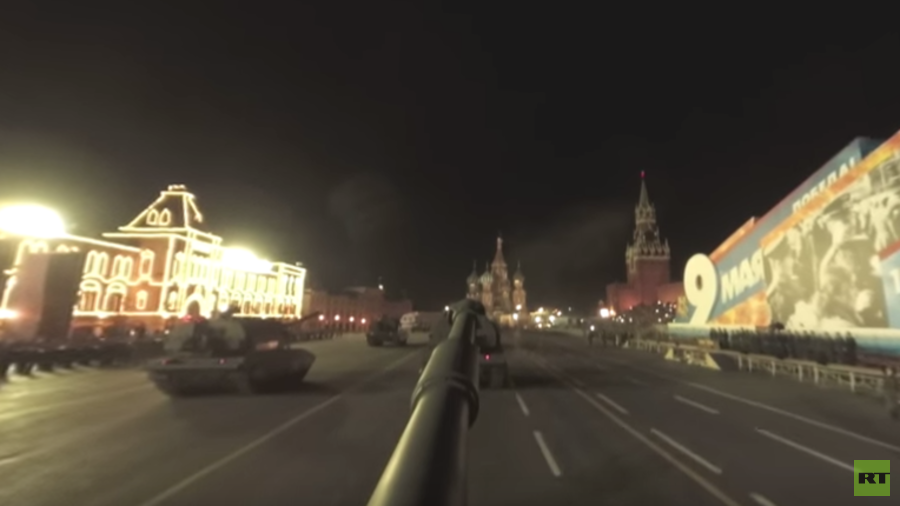 RT 360's panoramic footage from an Msta-S self-propelled howitzer offers an exclusive glimpse of Moscow's city lights during the rehearsal for Victory Day parade, which will mark the 73rd anniversary of victory in World War II.
Experience an exclusive drive through Russia's iconic Red Square from a unique perspective, with full control of the scene in RT 360's panoramic video, that captures the beauty of Moscow's nightscape as the entire nation gears up for widespread celebrations on May 9.
WATCH MORE: RT correspondent tries to 'hijack' tank during V-Day parade rehearsals (VIDEO)
Msta howitzers are at the frontline of Russia's artillery and have seen much action, following the armored unit's first deployment in 1989. The improved Russian howitzer Msta was launched in 2013. The self-propelled beauty, armed with a 152 mm cannon, is based on the T-80 tank hull, but is powered by the T-72's diesel engine.
The 42-ton armored unit will join a convoy of more than 100 military vehicles in Russia's main parade on Wednesday, which, among other hardware on display, will include a column of track machines of T-34-85 and T-72BZ tanks, BMP-3, BMD-4M and Tor-M2 surface-to-air missile systems.
READ MORE: Russian hypersonic missile Kinzhal & other big guns shown at V-day parade rehearsal (PHOTO, VIDEO)
If you like this story, share it with a friend!