Russian Ka-52 helicopter crashes in Syria, both pilots killed – MoD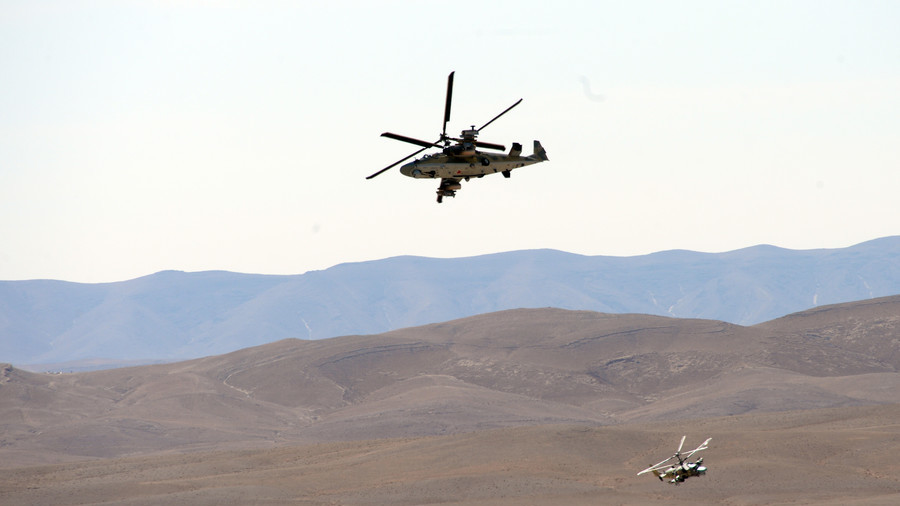 A Russian Ka-52 attack helicopter has crashed during a routine flight in eastern Syria and both of its pilots were killed in the incident, Russia's Defense Ministry has announced.
"A Russian Ka-52 helicopter has crashed during a routine flight over eastern regions of the Syrian Arab Republic. Both pilots were killed," the Ministry stated.
The remains of the pilots have been recovered by a search and rescue team and delivered to the base airfield. According to preliminary data, the crash was caused by a machine malfunction, the Russian military said.
Ka-52 attack helicopters, also known as "Alligators," have been used by Russian troops in Syria since 2016, providing close air support during various operations. A maritime modification of the helicopter, the Ka-52K, also briefly participated in the anti-terrorist campaign late in 2016, operating from the aircraft-carrying cruiser Admiral Kuznetsov.
The crash is the first such incident with the Ka-52 machines in Syria and the second deadly incident in a week to involve Russian Aerospace Forces. On May 3, a Su-30SM fighter jet crashed into the Mediterranean Sea off the Syrian coast, shortly after taking off from the Khmeimim airbase. Both pilots were killed in that crash. The incident was likely caused by a bird, which got sucked into plane's engine, according to the preliminary findings.
You can share this story on social media: