Man clings to car hood as Turkish floodwaters sweep vehicle away (VIDEO)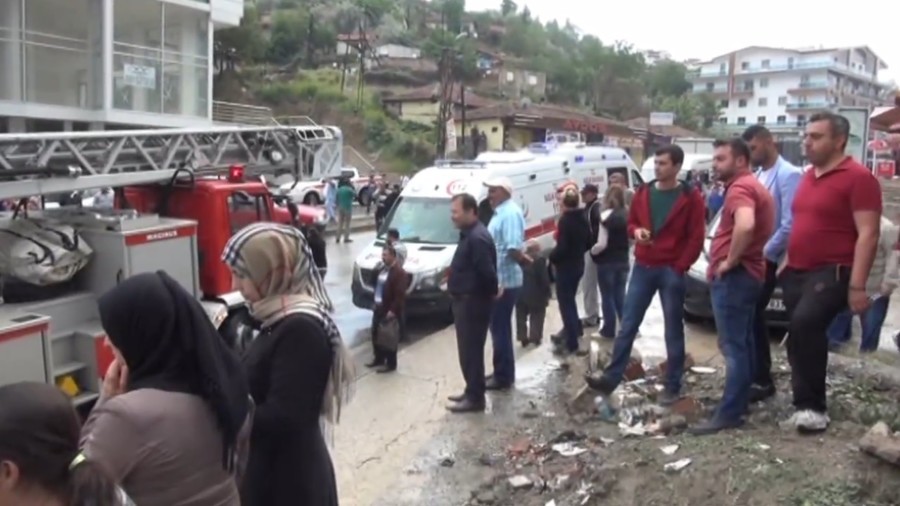 Flash floods transformed the streets of Ankara, Turkey into rivers on Saturday, with vehicles swept away in fast-moving currents. One plucky local was filmed escaping disaster by perching on top of his floating car's hood.
Six people were injured in the floods which occurred after heavy rainfall at about midday local time. The downpour was expected to last a few hours, but instead came down in just 10 minutes, quickly flooding streets in the Mamak district.
READ MORE: Extreme floods kill 12 & destroy Israel-West Bank barrier (PHOTOS, VIDEO)
Video footage taken in the Bosphorus neighborhood in Mamak shows the floodwaters sending countless vehicles and debris swiftly flowing down the street.
One man is seen perching uncertainly on top of a car as the water carries his vehicle down the street. At one point, an approaching truck almost collides with his car before becoming wedged, allowing the car time to disappear down the road's slope. The Daily Sabah reports the man was later rescued and, incredibly, was only slightly injured in the ordeal.
Many local businesses were impacted by the flooding, Aksam reports, and electricity wires were torn from their poles. About 100-150 vehicles were damaged in the deluge.
"Six people have been injured, but their health condition is not serious," Ankara Mayor Mustafa Tuna said of the incident. "A natural disaster like this has never happened before."
Like this story? Share it with a friend!