Extreme floods kill 12 & destroy Israel-West Bank barrier (PHOTOS, VIDEO)
Published time: 27 Apr, 2018 13:23
Edited time: 28 Apr, 2018 09:00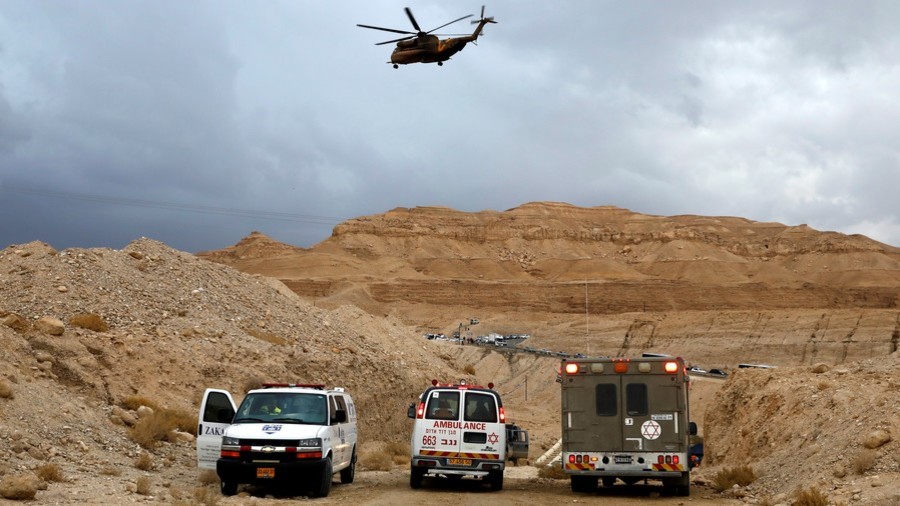 Twelve people have died, including two children, after heavy rains sparked flash floods in a number of areas across the West Bank and Israel. Members of a military academy were among those killed.
Footage posted to social media shows heavy flows of rainwater on the streets of Jerusalem and Tel Aviv. Homes and shops have been flooded while debris, such as restaurant tables and chairs, can be seen in the torrents of flooding. Such was the deluge, the water also took down parts of Israel's security fence with the West Bank.
READ MORE: 'Stop bombing planet A': Macron's climate change speech slammed online
Two Palestinian children were found dead in a pool that flooded in a refugee camp south of Hebron Wednesday. Some 10 hikers from an Israeli military academy were also killed Thursday when they were swept away by a surge in a river south of the Dead Sea.
READ MORE: Water wars? Devastating shortages will fuel MidEast conflicts for 25 yrs – report
Two other students from the Bnei Zion Academy in Tel Aviv were injured in the incident, according to Haaretz. The student trip was part of a pre-army program and its director has now reportedly been arrested on charges of negligent manslaughter. Prime Minister Benjamin Netanyahu described the event as a "terrible disaster."
The Jerusalem Post reports that some 50 people were rescued after a bus they were travelling in was knocked over by flash floods near the Dead Sea.
READ MORE: 'Our situation is bad': Gaza struggles with power cuts despite foreign aid (PHOTOS)
At about 420 meters (1,400ft) below sea level, the Dead Sea is found at the world's lowest point. The area is known for flash flooding as it's surrounded by desert and cliffs which can retain water during heavy downpours similar to those experienced in the last two days.