'Stop bombing planet A': Macron's climate change speech slammed online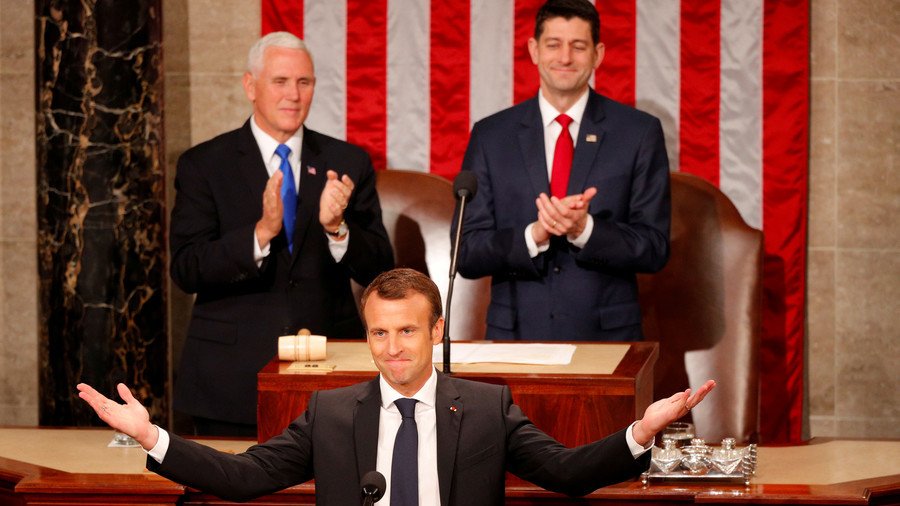 French President Emmanuel Macron defiantly told US Congress, Wednesday, "there is no planet B," generally amassing gushing praise from the MSM. Others, however, took Macron to task, pointing out his alleged hypocrisy.
The statement was made as Macron addressed Congress on climate change, taking aim at Trump's decision to pull the US out of the Paris agreement.
"I am sure one day, the US will come back and join the Paris Agreement. Let us face it: There is no planet B," Macron said.
His speech was met with a standing ovation from some members of Congress and a display of praise online, as people applauded him for delivering the stark reminder so eloquently.
However, some social media users offered a more skeptical reception to the speech and were quick to draw attention to the French president's hypocrisy.
"So stop bombing Planet A," was the hard-hitting rebuke from one Twitter user. Earlier this month France joined the US and the UK in launching airstrikes on Syria in response to an alleged chemical weapons attack on the town of Douma. Macron said at the time he had proof that the Syrian government was responsible for the alleged attack.
READ MORE: 'Syrian strike was risk without benefit for US, as Russia got American weapon samples'
Other Twitter users laid bare some examples of how the French leader's policies are proving destructive to the environment. French economist and climate activist Maxim Combes questioned why Macron supported CETA and other environmentally unfriendly trade agreements.
Macron supports CETA (Comprehensive Economic and Trade Agreement), the transatlantic treaty between Canada and Europe which has been dubbed by environmental groups as a major step backwards for the environment.
Another French commenter outlined similar concerns, claiming Macron's ambition to build a gold mine in French Guiana adds to his list of worrisome environmental policies.The World Wildlife Fund is calling on the French president to stop the mining project, arguing it "will have a catastrophic impact on the environment."
The Montagne d'Or project would see a total of 1,513 hectares (5.8 sq miles) cleared including sites where more than 2,000 plant and animal species can be found, including 127 protected species.
A petition by campaigners highlights Macron's public stance on climate change and asks for action. "You have pledged to the world to fight climate change and protect the planet at the One Planet Summit. The construction of an industrial mine between two complete biological reserves in the French Amazon is incompatible with our climate commitments and presents a major risk for Guyanese biodiversity," the petition states.
Last year France pledged €30 million for climate research. Last month Macron announced an additional investment of €700 million for global solar energy generation by 2022 to reduce the use of fossil fuel and help combat climate change.
Think your friends would be interested? Share this story!
You can share this story on social media: