'Our situation is bad': Gaza struggles with power cuts despite foreign aid (PHOTOS)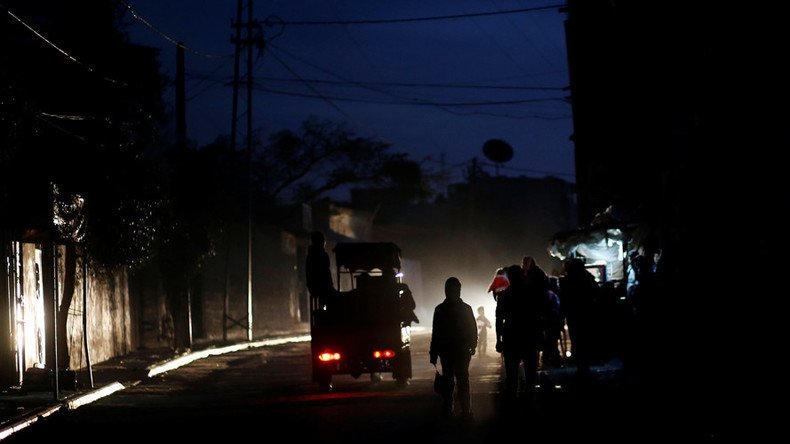 Despite Qatar's donation of US$12 million for fuel, residents of the Gaza Strip continue to spend most of their days without power.
The power outages are the worst to hit the area since Hamas took control of the strip almost 10 years ago. This energy crisis has been rumbling on since late last year, and has been compounded by worsening weather conditions.
Over the last number of weeks, Gazans have frequently been restricted to just three or four hours of electricity a day. This has led many to protests against Hamas, a rare show of dissatisfaction against the ruling party.
"Our situation is bad. I swear to God it's very, very bad," Majed Abu Nemer told AP.
"I can't afford to keep buying candles, or go and bring an [emergency] light," Abu Nemer said. "When the light's battery is about to die, I go to my neighbors to charge it so I can see how my children are sleeping and if they are covered."
READ MORE: Hamas disperses protesters as 1,000s decry Gaza's deepening energy crisis
A number of social media users have shared photos of how people are dealing with the power outages, as well as some novel ways of reporting on them.
In 2006, the local power plant was heavily damaged by Israeli bombing and currently operates at roughly 50 percent capacity. Since then power shortages have affected almost every aspect of life in Gaza and even though the plant could boost power output, there's no money to buy fuel, leaving the 2 million inhabitants in the dark.
Last Thursday, thousands of protesters were dispersed as they tried to reach the main office of the electric company responsible for supplying power to the Strip and one of the bodies blamed for the crisis. Police officers reportedly fired into the air to disperse the crowd, who were hurling stones.
Over the past year, Gaza has received only 45 percent of the power it needs and is currently receiving just a third of its daily demand of 450-500 megawatts. Israel provides Gaza 120MW, with Egypt providing an additional 30MW, while its own power plant in Nusairat generates a further 30MW. The power shortage has led to many burning candles and using generators, although not everyone can afford the fuel to run them for the required time.
Some help has now arrived, however, with Qatar's donation for fuel to run the power plant, boosting output in recent days to eight hours per day, and Turkey pledging to send large quantities of diesel to ease the crisis. The situation in the region is complex, however, with different factions blaming one another for the situation.
Israel's electric company has provisions in place to supply more power but is unwilling to do so unless it receives payment of debts owed. The Palestinian Authority, which controls the West Bank, used to send fuel it bought from Israel and Egypt to Gaza, but has ceased doing so due to its own financial troubles, angering Hamas.
Furthermore, Gaza's electric company is owed almost $1 billion in unpaid bills, leaving the company unable to seek more credit, while officials say they need US$500 million to fix the outdated power network.
Israel and Egypt continue to uphold a tight blockade on Gaza, meaning that even if the money for repairs could be found, getting parts into Gaza would be difficult.
You can share this story on social media: