Child's play? 5yo Kyrgyz boy pulls 3-ton truck (VIDEO)
Published time: 4 May, 2018 14:56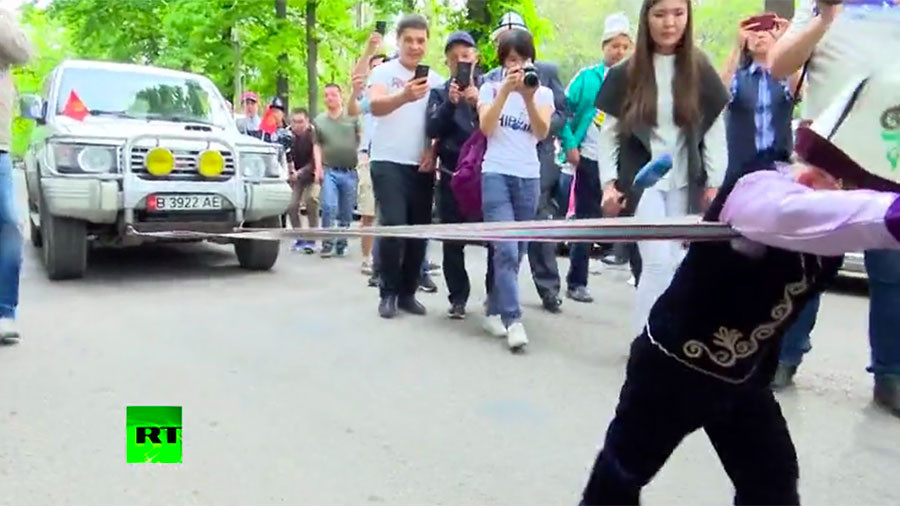 This Kyrgyz boy is only five years old, but he has already found an unusual way to showcase his superhuman strength. The little Hercules is strong enough to carry a three-ton off-road truck, a video on local media shows.
The breathtaking stunt took place in front of a crowd of enthusiastic onlookers in the center of Bishkek, the capital of Kyrgyzstan, on Thursday. Wearing no safety gear, the boy pulled the heavy truck for more than 30 meters, as seen in the footage released by Kyrgyz media.
The super-strong child remains incognito – his face was covered by a mask and his name hasn't been revealed to the public. Local media only managed to establish that the prodigy is from the town of Talas in northwestern Kyrgyzstan.
The boy's coach Nurlan Alisherov, who assisted the boy in his stunt, is happy to see his ward becoming famous. The young athlete, who weighs only 21kg, is Alisherov's youngest student. According to the coach, the incredible feat of strength was the culmination of just six months of training.
Like this story? Share it with a friend!