Bathroom brew: Indian Railways vendor caught mixing tea in toilets (VIDEO)
Published time: 3 May, 2018 18:07
Edited time: 4 May, 2018 08:46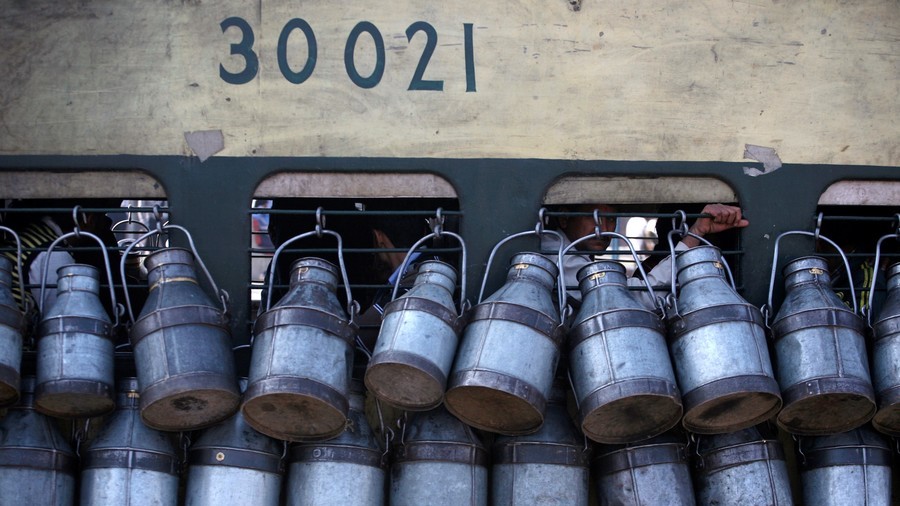 A vendor onboard an Indian Railways train has been fined after he was spotted carrying tea and coffee cans out of a toilet – suggesting customer beverages had been mixed in a public bathroom.
Outcry in response to video of the incident has led India's national railway to carry out an inquiry. Footage circulating online shows a man in a blue t-shirt leaving a train toilet with hot drinks dispensers for customers.
READ MORE: Massive Indian dust storm kills more than 70, injures scores more (VIDEO)
The incident has led to numerous comments online about health and safety. "In trains tea and coffee sellers bringing water from toilets… they are playing with public health. Friends please be aware while traveling in Indian Railways," one Facebook commenter said.
Clarification given by CPRO @SCRailwayIndia on the above shocking video of an Indian Railways vendor seeming to add water from a train's toilet in tea/coffee. More stringent action need to be taken. Vendor's license should be cancelled with immediate effect and send them to jail. pic.twitter.com/TufQrGjISH

— Bhushan Reddy (@bhushan_tweets) May 3, 2018
So citizens' health concern is just worth Rs. 1L according to Railways? Jail them all and make them drink the same toilet water they used for making tea/coffee on train.

— Revenant (@belligerent__) May 3, 2018
A few questions :
1. Why they haven't cancelled the license of the vendor ?
2. Regarding the 1 lakh. Who will get that one lakh. The railways which acted only when the video got viral or the passengers who unknowingly took a sip of the tea ?

— Ashish Singh (@Nalla_Aashish) May 3, 2018
As a result the government has been forced to intervene, slapping the official vendor with a fine of 100,000 rupees, the equivalent of US$1,500.
READ MORE: Fuel tanker hits power lines: Sparks fly in dramatic crash (VIDEO)
"It has come to notice that a video has been in circulation on social media in the last few days of a vendor seen coming out of a train toilet with tea/coffee cans, conveying that water is mixed in the cans inside the toilet," a statement from the Indian Ministry of Railways read.
"An inquiry has been held to identify the wrongdoers and initiate appropriate action."
Like this story? Share it with a friend!