1,374 drones light up the skies to break Guinness World Record in China (VIDEO)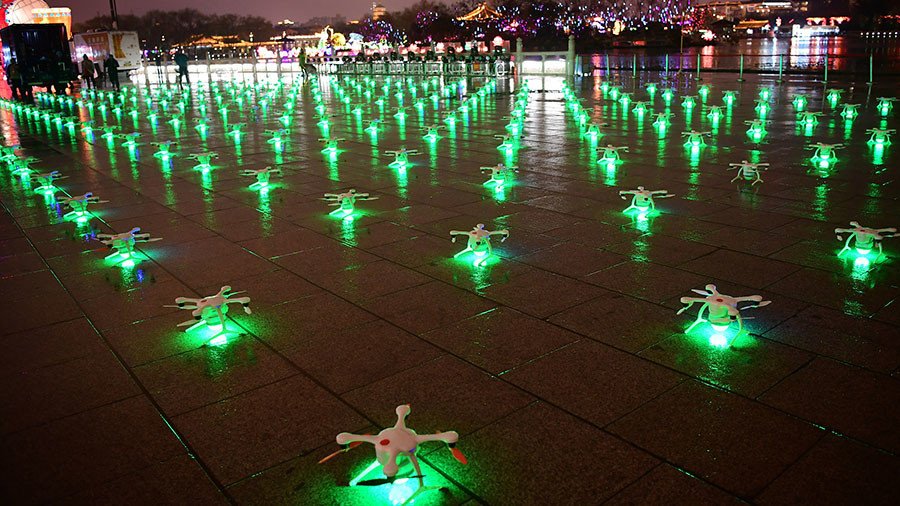 A Chinese drone company has colored the night with 1,374 luminous dancing drones, to set a Guinness World Record for most UAV's flown at the same time.
The spectacular performance was staged above the tourist city of Xian in Northwestern China on Sunday. The quadcopters simultaneously took off from the ancient town walls and created various colorful 3D formations in the air.
The 13-minute-long display, coordinated by a single person with a computer, included such figures as a Buddha, a caterpillar on a piece of wood and a high-speed train. The show also paid tribute to the 'One Belt One Road' initiative by Chinese leader Xi Jinping, which is aimed at boosting cooperation and connectivity among Eurasian countries.
By flying 1,374 drones, the Chinese EHang Egret firm deprived Intel of its world record in the category. The US tech giant had lifted 1,218 dancing drones in the air during the opening ceremony of the Winter Olympics in PyeongChang in February, but now its achievement has been topped by 156 aircraft.
READ MORE: Flying above the law: Chinese gang used drones to smuggle $80mn worth of iPhones
EHang Egret first made international headlines in 2016 when it announced plans to create a passenger drone to be sold at the price of $300,000. This year, the firm said it successfully completed tests of the UAV, adding that the aircraft would be able to carry one person and reach a speed of up to 130 kilometers per hour.
Like this story? Share it with a friend!
You can share this story on social media: