South Korean military to remove propaganda loudspeakers along North's border
Published time: 30 Apr, 2018 06:41
Edited time: 1 May, 2018 07:45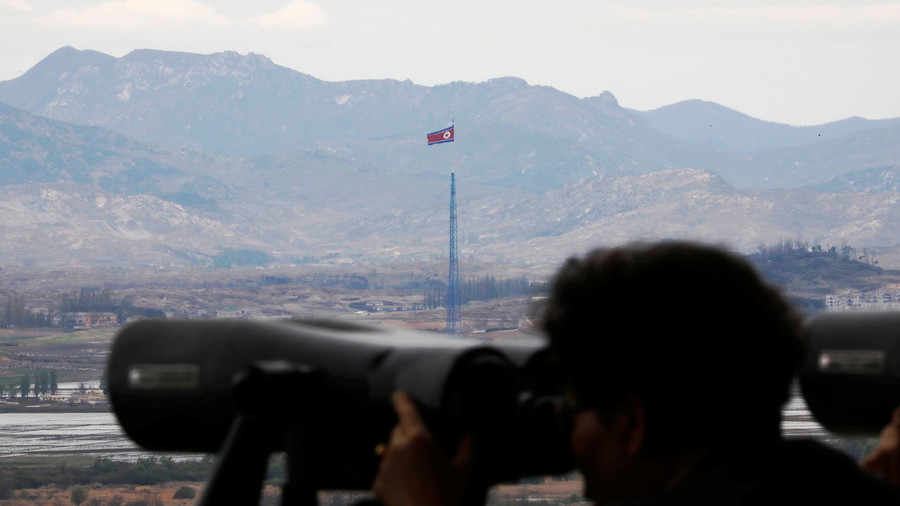 South Korea's military said it will dismount its propaganda loudspeakers installed along the DMZ, days after the two countries' leaders agreed to cease all hostile acts and attempt reconciliation.
The South Korean Ministry of National Defense said it will begin the removal of loudspeakers from the Demilitarized Zone (DMZ) on Tuesday, Yonhap reported. Choi Hyun-soo, the spokeswoman for the ministry, said it is a "rudimentary" move meant to promote trust between the two sides.
She would not confirm how many loudspeakers were in place along the border. Seoul has already halted transmission of anti-Pyongyang broadcasts across the border ahead of the landmark meeting between South Korean President Moon Jae-in and his North Korean counterpart, Kim Jong-un.
The two leaders met last Friday, marking the first summit between Korean heads of state since 2007. The meeting appears to have been a breakthrough in cooling down tensions on the Korean Peninsula, as Moon and Kim have agreed to move forward on denuclearization.
A number of reconciliatory steps were previously taken by Pyongyang. The North Korean leader promised to shut down his nuclear test site in May and invited experts and journalists to ensure "transparency" of the closure, South Korea's presidency said on Sunday. Also in May, North Korea will shift its time zone 30 minutes earlier to align with South Korea's.
South Korea last restarted loudspeaker broadcasts in 2016, shortly after Pyongyang claimed it carried out a hydrogen bomb test. On the heels of mounting military tensions, South Korea's military began blaring speeches denouncing North Korea's nuclear program and criticizing the country's leader. The broadcasts also included pop music from South Korea.
At the time, Seoul's decision to resume the broadcasts was criticized by the UK, which called upon South Korea to not worsen the situation. "We urge South Korea to exercise restraint," then-British Foreign Secretary Philip Hammond said during a visit in Japan. "It is simply rising to the bait."
Like this story? Share it with a friend!