Trump calls Paralympic Games 'tough to watch,' Twitter erupts in fury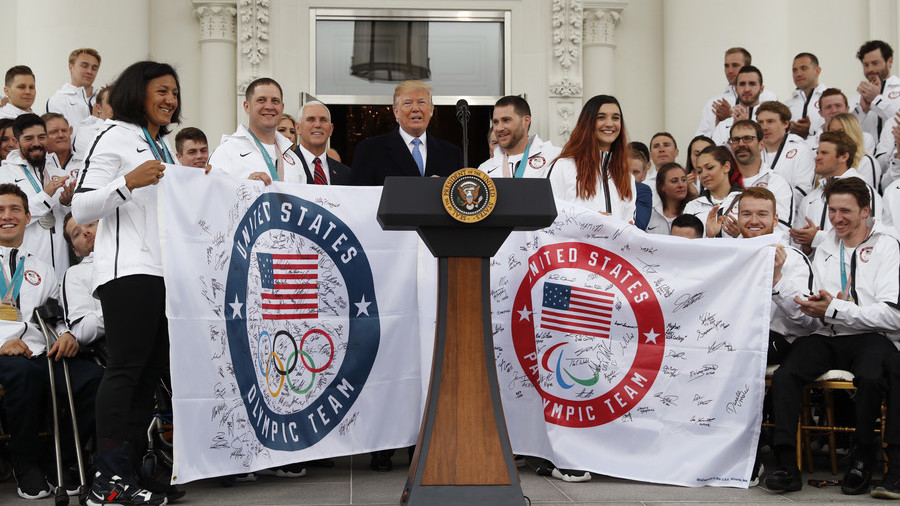 When Donald Trump held a ceremony for Paralympic athletes, the honorees didn't expect to be told that their performances were "tough to watch." But that's what the president said – and the Twittersphere isn't too happy about it.
All of the Olympic and Paralympic athletes who competed in Pyeongchang were invited to the White House for the Friday ceremony. It included a speech on the Paralympic Games from President Donald Trump, which was riddled with certain words you might expect, including "incredible" and "inspiring."
But then it all went downhill. "It's a little tough to watch too much, but I watched as much as I could, it was really fantastic, and I want to thank you," the president said.
The remark has unsurprisingly garnered its fair share of reaction online, including from US figure skater Adam Rippon. He tweeted before the event that he would be skipping it because he "will not stand with people who discriminate against those that they perceive as different."
He tweeted later after Trump's remark, reiterating that he had "no regrets about missing this trip."
Comedian Sarah Silverman also chimed in, saying she wished there was someone in that exact moment who could have responded to the "tough to watch" remark by asking Trump: "How so?"
Other social media users were just as angry at the US president's comment. "Nice job insulting the Paralympic athletes by telling them they are tough to watch. You are tough to watch all the time," Twitter user Michael Leegan wrote.
Another said that Trump "cannot hold a candle" to Paralympians. "They beat Trump in every way possible. Trump is overweight and lazy!"
Others took the opportunity to remind about what happened on the campaign trail, when Trump came under fire for allegedly mocking a disabled reporter – a claim which a campaign official reportedly said wasn't true, noting that Trump was unaware of his condition when he mocked him.
Another person called on Trump to "apologize to the Paralympic movement and all of the athletes who participate in it."
Still, a self-proclaimed "Trump detractor" was willing to give the president the benefit of the doubt.
"I interpret his comments to mean that watching these Paralympic athletes is so touching that it can be emotionally draining to watch them," he wrote.
If you like this story, share it with a friend!