Trump under fire for apparently mocking reporter's disability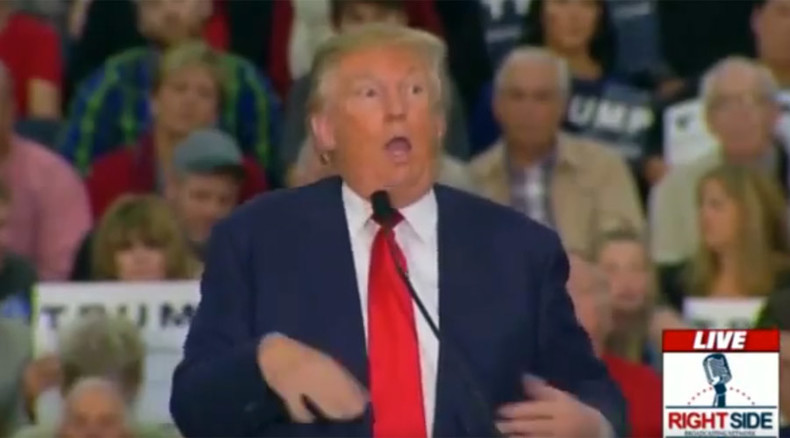 GOP presidential hopeful Donald Trump was blasted by journalists after apparently mocking a reporter's disability during a campaign speech. Trump did so as he was defending a controversial 9/11 claim.
As the real estate mogul was addressing supporters in South Carolina on Tuesday, Trump reiterated his claim that after the World Trade Center towers went down in 2001, thousands of Muslims celebrated in New Jersey. The claim has been debunked by officials and media reports, but still endures as a rumor.
To support the claim, Trump cited a story reported in 2001 by investigative journalist Serge Kovaleski, who was working for Washington Post at the time. The piece alleged that "authorities detained and questioned a number of people who were allegedly seen celebrating the attacks and holding tailgate-style parties on rooftops while they watched the devastation on the other side of the [Hudson] river."
Kovaleski, now an investigative journalist at the New York Times, commented on the rumor in an interview on CNN this week, saying he did not recall "anyone saying there were thousands, or even hundreds, of people celebrating." In his speech in South Carolina, Trump berated Kovaleski's rebuttal in a manner that was deemed "despicable" by some commenters.
"Now the poor guy – you ought to see the guy: 'Uhh I don't know what I said. I don't remember.' He's going, 'I don't remember. Maybe that's what I said,'" Trump went on while gyrating his arms wildly and holding a hand in a claw-like pose.
Kovaleski has arthrogryposis, a congenital condition that limits joints flexibility in his arms. It often caused him to hold his hands at strange angle, not unlike what Trump showed.
"The sad part about it is, it didn't in the slightest bit jar or surprise me that Donald Trump would do something this low-rent, given his track record," Kovaleski commented for the Post.
The NYT blasted Trump's remarks, telling Politico: "We think it's outrageous that he would ridicule the appearance of one of our reporters."
Trump's campaign would not immediately comment on the incident, but according to the Post, a campaign official speaking on background said Trump was "not aware of any condition and was not mocking his physical appearance in any way." Kovaleski told the paper he was sure that Trump remembered him and his condition.
The businessman himself tweeted late Wednesday that "the failing @nytimes should be focused on good reporting and the papers [sic] financial survival and not with constant hits on Donald Trump!"
The failing @nytimes should be focused on good reporting and the papers financial survival and not with constant hits on Donald Trump!

— Donald J. Trump (@realDonaldTrump) November 26, 2015
Trump is not the only US politician to draw unflattering attention to other people's physical conditions. In 2012, Katrina Pierson, who now serves as Trump campaign spokeswoman, drew fire as she supported Ted Cruz's Senate bid. She described as "deformed" a military veteran suffering from injuries from an IED, who appeared in a video for one of Cruz's opponents.