South Korea to restart propaganda loudspeakers on North's border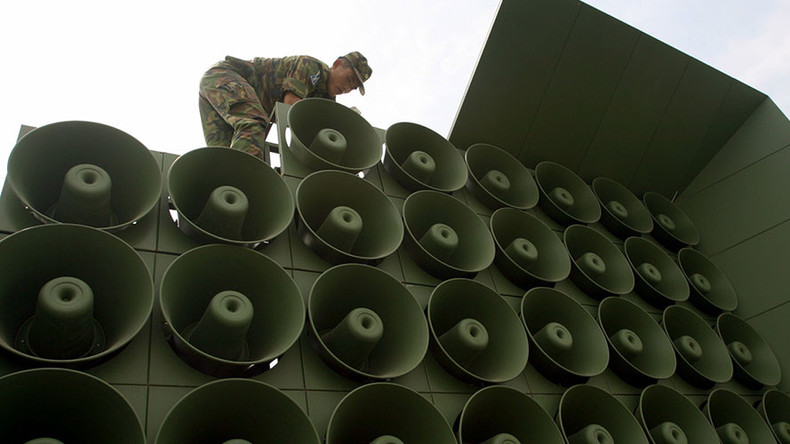 South Korea says it will restart propaganda loudspeaker broadcasts along the border with the North, following Pyongyang's claimed hydrogen bomb test.
The broadcasts will restart on Friday, South Korea's presidential office says, calling the North's bomb test a "grave violation" of an agreement in August between the two Koreas, which had aimed to ease tensions. At that time, the two traded artillery fire after Pyongyang had demanded a halt to the broadcasts.
Pyongyang has threatened to launch "strong military action" against loudspeakers broadcasting messages critical of North Korean leader Kim Jong-un, the Yonhap news agency reports, citing South Korean President Park Geun-hye who said: "North Korea could carry out a surprise provocation at any time in the current confrontational situation on the Korean Peninsula and we should be prepared for it."
"Our military is at a state of full readiness, and if North Korea wages provocation, there will be firm punishment," senior presidential national security official, Cho Tae-yong, said in the latest statement.
The Yonhap news agency announced it has decided to discontinue its "North Korea Newsletter" weekly service, making Thursday's issue No. 395 the final one.
"We extend our gratitude to our readers for the deep interest and encouragement shown to the online service since its first publication in May 2008," the agency wrote.
Seoul has already restricted access to Kaesong industrial park, the last significant joint project with Pyongyang providing jobs for 53,000 North Koreans.
The South Korean Unification Ministry's new ban on entering Kaesong affects service providers and potential clients, who want to visit any of the 120 South Korean businesses operating in the North Korean border city. They are located in an industrial park, where small and medium-sized companies use cheap North Korean labor.
The Kaesong industrial park is believed to be the last remaining significant project created by the two Koreas, at a time when Seoul and Pyongyang practiced rapprochement policies.
The announced limited access to Kaesong is Seoul's first practical reaction to North Korea's alleged thermonuclear test earlier this week.
Many international monitoring stations detected an unusual 5.1 magnitude seismic event on the Korean peninsula. It appeared similar to North Korea's last nuclear test carried out on February 12, 2013.
Yet so far there has been no official confirmation that the earthquake was caused by an explosion of a nuclear device and that radioactive emissions have been detected. When Pyongyang tested a nuclear device in 2013, it took more than 50 days to detect radioisotopes coming from underground after the explosion.
The alleged test has upset North Korea's neighbors, with South Korea and Japan asking the US for confirmation of protection in case of conflict with Pyongyang.
President Barack Obama contacted the leaders of Japan and South Korea, reiterating "the unshakeable US commitment to the security" of both countries.
The UN Security Council should hold Pyongyang accountable for the announced nuclear test "by imposing a tough, comprehensive and credible package of new sanctions" on North Korea, Samantha Power, US ambassador to the UN, said in a statement issued shortly after an emergency UN session on Pyongyang's nuclear test announcement.
READ MORE: UN Security Council condemns N. Korea nuclear test, starts work on 'further measures'
The UN Security Council condemned North Korea's nuclear test in the strongest terms as a "clear threat to international peace and security," and in light of "the gravity of this violation" pledged to pursue new international sanctions against North Korea.
At the same time, Russia's UN ambassador Vitaly Churkin told reporters it would be going "too far" to say Moscow supports new sanctions against Pyongyang, and that Russia has yet to see a UNSC draft resolution on the issue.
You can share this story on social media: