North Korea promises to close nuke test site in May – South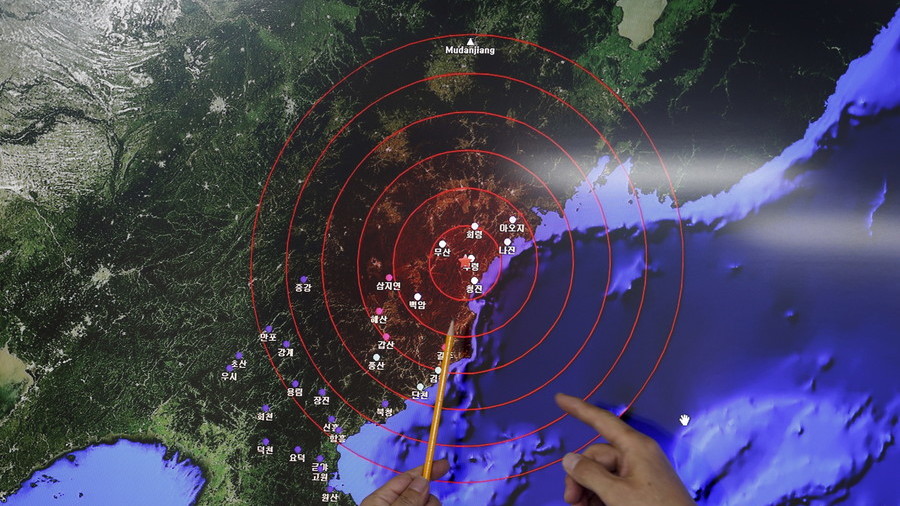 North Korea plans to close its nuclear weapons test site in May and give South Korean and US experts and the media access to the process, South Korea says.
The closure was apparently decided upon when North Korean leader Kim Jong-un and South Korean President Moon Jae-in met for a historic summit on Friday. They also agreed to make the dismantlement public, Moon's chief press secretary Yoon Young-chan said.
"Some say that we are terminating facilities that are not functioning, but you will see that they are in good condition," Yoon quoted Kim as saying. The North's leader said he would invite security experts and journalists. He said his country won't need nukes if the US promises non-aggression, Yonhap reports.
The Seoul spokesperson also said Kim will change the North Korean time zone to match that of the South. Currently, Seoul is 30 minutes ahead of Pyongyang.
Friday's summit appears to have been a breakthrough in winding down the crisis on the Korean Peninsula. For the first time in over a decade, the leaders of the North and the South met at the border and eventually signed a declaration of shared commitment to the complete denuclearization of the peninsula. They also agreed to have further talks that would include other countries, including Seoul's ally the US and Pyongyang's backer China, in an effort to finally sign a peace accord instead of the truce that has been in place since the Korean War ended in 1953.
The next step is Kim's much-awaited meeting with US President Donald Trump, which could happen as soon as within the next three or four weeks. Trump has been pursuing what he calls a "maximum pressure" policy against North Korea, with severe economic sanctions and near-constant live-fire military drills at its border, as well as a Twitter offensive, which included name-calling, threats and boasting about having a bigger nuclear button. Trump has now moved on to calling Kim "very honorable," but he has still threatened to walk out of the talks if he doesn't deem them to be fruitful.