K-pop & light show: North & South Korean leaders passionately part after historic meeting (VIDEOS)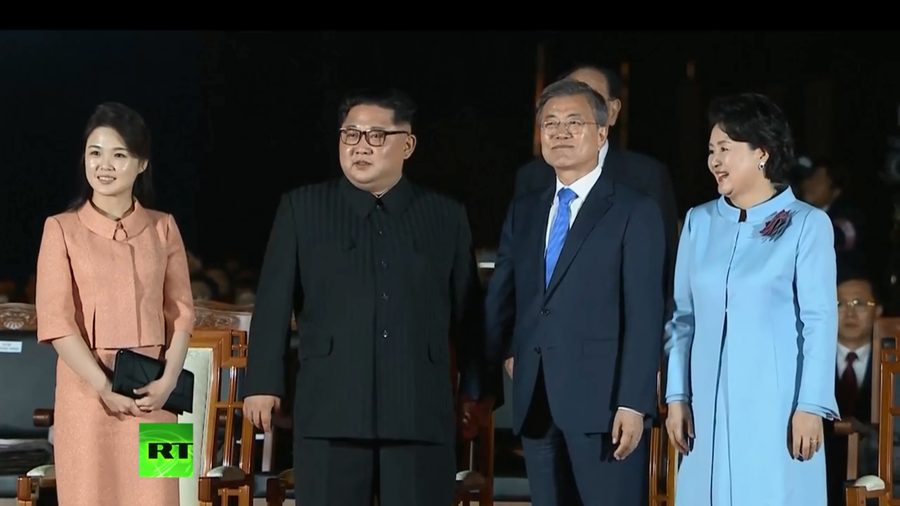 Following the first meeting in over a decade, the leaders of North and South Korea attended an evening banquet and recalled the highlights of the historic summit, projected in photos onto a building to a K-pop song.
"Today's meeting and accomplishment is just the beginning and nothing more than the tip of the iceberg compared to what we have to do ahead," North Korean leader Kim Jong-un said during the banquet. "Let's end the history of confrontations and mistrust between the North and the South, hold hands together and boldly move forward for the future of our people."
READ MORE: All smiles, hugs & holding hands as North and South Korean leaders meet (PHOTOS, VIDEO)
Kim and South Korean President Moon Jae-in then attended an open-air concert near the Peace House, located at South Korea's side of the Demilitarized Zone (DMZ).
The concert, led by a musician who played a white piano, was accompanied by a light show, projected onto the Peace House. The visuals apparently symbolized the prospects of the reunification of the two Koreas.
Following the concert, the best photos of the meeting between the two leaders were projected onto the building, set to a K-pop song that included the words "be a family again." Kim and Moon held hands during the ceremony.
The two leaders, alongside their spouses, then shook hands with the top officials of other countries' delegations, and proceeded to their limos, talking a bit more before parting ways. Kim was the first to leave, accompanied by his jogging bodyguards.
Like this story? Share it with a friend!