Top of the world: First ever all-woman Euro-Arabian ski team reaches North Pole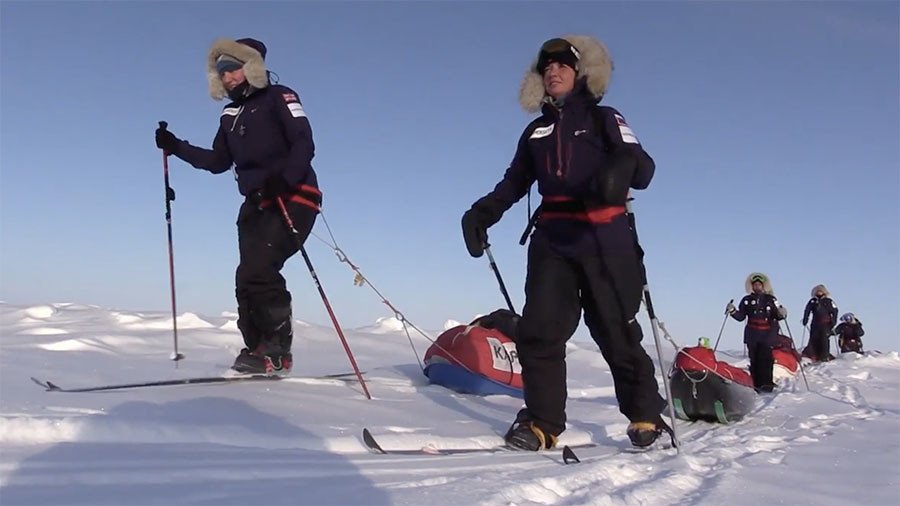 An all-female group from Europe and the Middle East are top of the world today after completing the grueling seven-day cross-country ski to reach the North Pole.
Seven women from Cyprus, Kuwait, Oman and Qatar became the first people from their countries to traverse the 82km (51 miles) distance to reach the northernmost part of the world. The expedition project was launched by British polar explorer Felicity Aston as part of a bid to build dialogue and understanding between Western and Arab cultures.
READ MORE: Over 100,000 Saudi women apply for 140 passport control jobs
"The records that we now have as a team are really lovely to have," Aston said at the finish line. "We are going to share our story and hopefully inspire lots more girls and boys, men and women to go on and reach beyond the expectations of others."
The team endured extreme polar temperatures, shifting pack ice and blistering winds. They also had to keep an eye out for any polar bears in their path. The conditions proved too much for one of the group who had to be evacuated just two days into the expedition after suffering from frostbite. Qatari adventurer Asma Al Thani believes the success of the expedition will help women in the Middle Eastern nation to "believe more in themselves."
READ MORE: 'Fake news' for a good cause? Viral polar bear video not what it seems
The trip's sponsor, Kaspersky Lab CEO Eugene Kaspersky, echoed Al Thani's comments, saying: "The fact that many girls came from Arabic states, from south states, show that they are also capable of doing that. And this is really the heroic deed."
Think your friends would be interested? Share this story!
You can share this story on social media: