'Fake news' for a good cause? Viral polar bear video not what it seems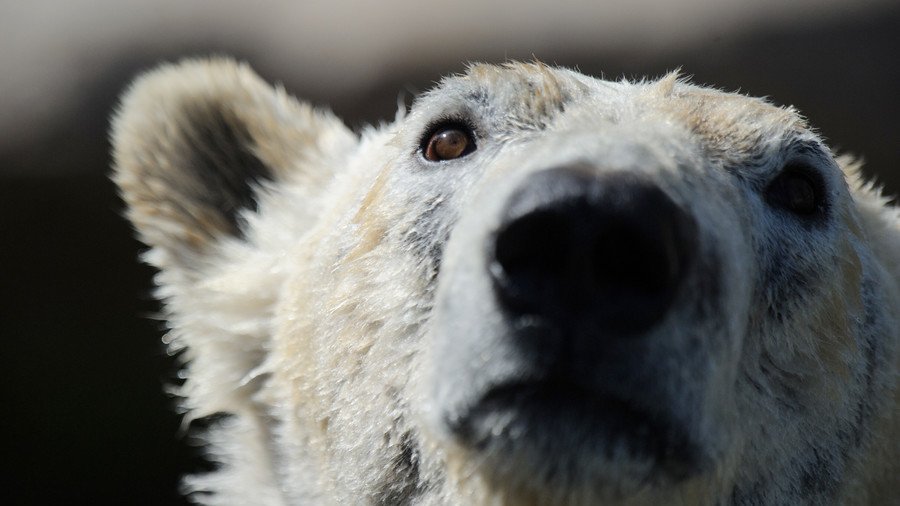 The viral video showing an emaciated and starving bear desperately searching for food has garnered massive attention around the world, but in the six days since its publication serious doubts have emerged.
Nunavut polar bear monitor Leo Ikakhik has been surveying the animal populations on the western shore of the Hudson Bay, Canada in the periphery of the Arviat community, for the last seven years, collaborating with organizations such as the World Wildlife Foundation (WWF). His work involves harm reduction and conservation efforts; essentially limiting human contact with the polar bears.
"I wasn't totally surprised. These things happen," Ikakhik told CBC Radio. "Mother Nature is going to do part of that. You know, it's just part of the cycle. Everybody probably was shocked to see a really skinny bear, but this is not my first time seeing something like this."
READ MORE: Filmmaker captures 'slow, painful death' of starving polar bear (VIDEO)
The viral video, which shows a beleaguered and emaciated bear desperately searching for food in an abandoned fishing camp on Somerset Island, has been viewed more than 1.4 million times on Instagram in the six days since it was uploaded, and stolen headlines and hearts across the world.
The video was shot by National Geographic photojournalist and fellow Paul Nicklen for his environmental conservation organization Sea Legacy.
"When the animal first got up and we could see that he was actually in the late stages of starvation," SeaLegacy co-founder Cristina Mittermeier told CBC Radio. "All of our team was in tears and feeling completely helpless to do anything about it except to roll our cameras and share it with the world."
While Mittermeier and Nicklen posit that melting sea ice, caused by climate change, is to blame, Ikahik isn't so sure, instead proposing that the bear may have been sick or injured to such a degree that it couldn't hunt properly.
Ikahik added that, not only does he see healthy, well-fed polar bears in the area all the time but that locals were forced to euthanize a polar bear they encountered recently that had broken its paw. It's also important to note that bears are apex predators and, as such, they die from starvation, sickness or battle wounds caused by other bears.
"Since I'm from the North, I wouldn't really fall for the video," he said. "I wouldn't really blame the climate change. It's just part of the animal, what they go through."
Critics have highlighted that one singular, highly emotive video does not prove anything, especially when there was little to no communication with the local Inuit community, who have coexisted with the bears for generations.
In addition, while the video was filmed in late August, during the snowless months in the tundra, it's perceived as a disingenuous argument for the dangerous impacts of climate change, especially given that the team waited until December to publish.
A December 2016 study, published in the Royal Society's Biology Letters, claims that up to 30 percent of global polar bear populations could disappear by 2050. An additional report, released in March by the Canada-Greenland Joint Commission on Polar Bears found that the animals are coping with the effects of climate change better than expected along Canada's eastern Arctic.
The report found that in Baffin Bay, bear populations had stayed at roughly the same level for 20 years, approximately 2,800.
The pushback against the video from the indigenous community has also been strong.
The video has also generated significant debate among the scientific community, both as to its authenticity and its significance.
"The video shows what appears to be an old male in declining health, but clear clinical signs of starvation aren't obvious (e.g. convulsions)," polar bear biologist Andrew Derocher told The National Post. Derocher believes the bear may have succumb to an aggressive form of bone cancer. "Bears can respond to improved conditions: We've followed bears that went from bone racks to obese over a few months," said Derocher.
While disappearing ice is certainly having a negative impact on particular polar bear communities, others are thriving. Data collected by the Canadian Federal Government shows bear populations along the western coast of Baffin Island are "stable" and, on the southeastern side, shows a "likely increase."
"Fake news for a good cause can backfire and shred your credibility. That's something nobody who's concerned about the environment can afford to forget," Margaret Wente of the Globe and Mail, wrote in an opinion piece on the subject.
In response to the criticism and controversy, Sea Legacy has been steadfast in defending its position.
"The point is that it was starving," Mittermeier told CBC Radio Friday. "As we lose sea ice in the Arctic, polar bears will starve."
Sea Legacy's stated mission"is to create healthy and abundant oceans, for us and for the planet" using a "powerful model for impact, centered around extraordinary visual storytelling." The non-profit also claims to "bridge the gap between scientific data and human emotion."
In her instagram post on the distressed animal, Mittermeier called the bear the "Face of Climate Change," but clarified later that "we don't know what caused this animal to starve.
"Some have criticized us for not doing more to help the bear, but we were too far from any village to ask for help, and approaching a starving predator, especially when we didn't have a weapon, would have been madness," Mittermeier said as cited by National Geographic.
"In the end, I did the only thing I could: I used my camera to make sure we would be able to share this tragedy with the world."
"Without a full necropsy, it's nearly impossible to say whether or not the bear had some kind of disease," National Geographic's editorial board wrote, defending the publication of the story. "As a whole, polar bear populations around the world are not in immediate peril."
You can share this story on social media: